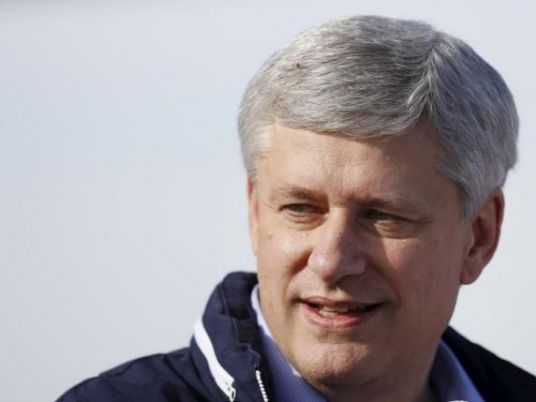 Canadians look set for political change on Monday as polls showed a strong prospect that Conservative Prime Minister Stephen Harper's government will be ousted, or reduced to a minority, amid a late surge by Liberal rival Justin Trudeau.
The 11-week campaign was considered too close to call for nearly two months, a virtual tie between the Conservatives, Liberals and left-leaning New Democratic Party (NDP).
But the emergence of Trudeau, the 43-year-old son of former Prime Minister Pierre Trudeau, as frontrunner in recent polls has much of Canada's national media writing Harper's political obituary after nine years in office.
Still, a potential three-way split in votes means it will be hard for either the Conservatives or center-left Liberals to win a majority of seats. A minority victory would likely presage another election in less than two years.
The Conservatives also tend to surpass poll forecasts, in part because of a strong get-out-the-vote machine. Harper exceeded expectations by winning a majority in 2011 after two minorities in 2006 and 2008.
The NDP, an early favorite to win, has faded to third place but could play a major powerbroker role in a minority situation. The NDP has said it would topple a Harper government at the earliest opportunity but would likely cooperate with a Liberal minority government, at least in part, to delay a costly new election.
The election could be decided once polls close in Ontario and Quebec, Canada's two largest provinces who hold a combined 199 seats of the 338-seat Parliament, at 9:30 pm ET (2:30 am BT). A close election could make the Pacific province of British Columbia the decider. Polls there close at 10 pm ET (0200 GMT).
Political pundits began to speculate on the makeup of a Trudeau government in the final weekend of the campaign while pondering what caused the downfall of Harper, 56, who has been criticized for his aloof personality but won credit for economic management in a decade of global fiscal uncertainty.
"Either his Conservative Party will win a small plurality of parliamentary seats in Monday's election, but then be defeated in the House of Commons, or his party will win fewer seats than the Liberals and hand over power," Globe and Mail columnist Jeffrey Simpson wrote. "Either way, time will soon be up for the Prime Minister."
If he wins, Trudeau has said he will run small deficits to invest in infrastructure and boost Canada's economic growth, which has been anaemic for years. He has also promised to follow a more multi-lateral approach on the global stage than did Harper and repair Canada's relationship with the United States.
Harper's campaign has focussed on himself, with Conservative ministers making rock-star-style introductions of the prime minister at rallies. If he wins, Harper would be the first Canadian prime minister since 1908 to triumph in four consecutive elections.