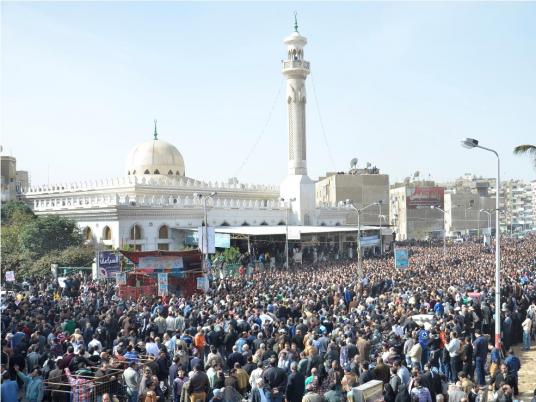 Clashes between police and protesters in Port Said have left 310 people injured, 33 of whom were shot with birdshot, said Helmy al-Afny, the Health Ministry's undersecretary in Port Said.
Port Said residents say a police officer ran over five people with his car Saturday while they were marching with other protesters as part of a call for civil disobedience.
Dozens of protesters attacked the Port Said Security Directorate with Molotov cocktails Sunday, setting the directorate on fire and completely destroying it, after authorities transferred defendants in the ongoing football violence trial to an unknown location late Saturday.
The directorate's public relations department said it had no information about where the defendants were transferred, and that it hadn't been told about the move.
Anger has continued to brew in Port Said more than a month after fierce fighting broke out in the Suez Canal city after a court sentenced 21 people to death over violence at a football match last year. About 40 people died in the post-verdict clashes between protesters and security forces.
At least 72 people died in last year's violence — mostly supporters of Cairo's Ahly team — when Masry team fans stormed the pitch, attacking Ahly fans. But many observers have also blamed security forces for not stopping the violence.
The Port Said Criminal Court is set to convene for a related case over the football violence on 9 March.
Edited translation from Al-Masry Al-Youm