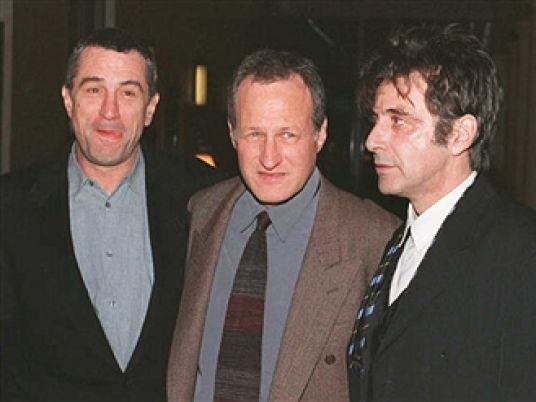 Twenty-one years ago Michael Mann's iconic crime opus "Heat" paired Hollywood legends Al Pacino and Robert De Niro for the first time, delighting moviegoers and inspiring a generation of filmmakers.
The sprawling 1995 epic, which pits the actors against one another as kindred spirits on opposite sides of the law, has become a benchmark in neo-noir cinema, lauded for its melancholic but visually stunning depictions of Los Angeles.
The stars and their director reunited this week for the first time to share memories of an intense 107-day shoot, debunk myths and reveal an aspect of Pacino's acclaimed performance kept secret for two decades.
"I knew it would be special when I read the script so I'm happy that it got the attention it did," De Niro, 73, told a panel at the Academy in Beverly Hills, moderated by Oscar-nominated British filmmaker Christopher Nolan.
"Heat" follows Pacino's LAPD detective Vincent Hanna over almost three hours as he and his team chase a gang of robbers led by De Niro across Los Angeles.
It is lauded for its striking cinematography, taut action and a meeting in a diner between the two leads that marked their first scene together after appearing separately in "The Godfather: Part II" 21 years earlier.
Pacino, 76, revealed for the first time that he deliberately played his famously brash detective – a role which has come to define his later career – as a drug addict who regularly "chips cocaine."
Mann never filmed the character taking drugs but Pacino said much of his motivation for the over-the-top, erratic detective came from thinking of him as constantly strung out on coke.
"I've always wanted to say it, just so you know where some of the behavior comes from," Pacino said.
Nolan, who drew inspiration in his portrayal of Gotham City in the "Dark Knight" films from "Heat," rebuffed a long-held conspiracy theory about the movie – that Pacino and De Niro didn't actually act opposite one another.
Their paths cross on several occasions but they appear separately in close up shots, and an urban legend asserting that they were never together at the same time has grown popular over the years.
Nolan pointed out, however, that after moving to LA he had seen a picture of the acting legends on set together, hung for years above a door at the now closed Kate Mantilini diner in Beverly Hills, where the scene was filmed.
The famous exchange, mostly taken from the 11th take, revealed something of De Niro's meticulous acting method, Pacino said, recalling that his co-star didn't want to rehearse.
Pacino said the dynamic between the two actors was helped in part by the fact that De Niro was in a bad mood when the cameras rolled due to a production delay.
"I loved the scene, and I really wanted it to be the best it could be. I was a little unhappy that we started so late, in the middle of the night, but anyway we did it," De Niro shrugged sheepishly.
Mann was inspired to write the script by the experiences of his friend, a real-life detective in Chicago called Charlie Adamson, who shot dead criminal Neil McCauley in 1963 after the pair had enjoyed an amiable dinner.
Mann said the real-life pair shared "the kind of intimacy only strangers can have," even though Adamson didn't hesitate for a second when he had to kill McCauley.
"It was one of those things where the contrapuntal nature of it really fascinated me, that both are true, it wasn't a contradiction. That's the real germ of the film."