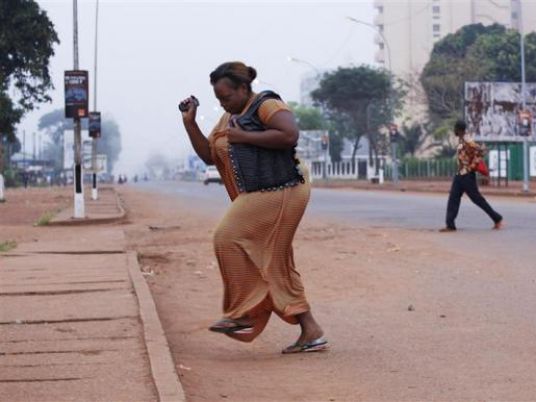 Heavy fighting erupted near the airport in Central African Republic's capital Bangui on Wednesday as Christian militia blocked an attempt to evacuate Muslims, witnesses said, disrupting a visit by a top United Nations aid official.
The former French colony has been gripped by cycles of inter-religious killing despite the deployment of about 6,000 African and 1,600 French peacekeepers to halt violence that some diplomats say risked slipping into genocide.
Songokoua Yetinzapa, a Bangui resident living in a vast camp for displaced civilians near the airport, said clashes began after Chadian troops tried to escort a convoy of Muslims out of the city but were blocked by the militia, known as the "anti-balaka".
"I heard several people were killed but I only saw one dead body: a Muslim who was killed by the anti-balaka," he said by telephone as automatic gunfire and an explosion rang out.
Reuters journalists were chased from the scene by machete-wielding youths.
A UN official said African peacekeepers had been dispatched to reinforce troops in the area near the airport.
Another UN official said the fighting had prevented Valerie Amos, UN Under-Secretary-General for Humanitarian Affairs, from travelling to the north of the country where violence between Muslims and Christians has also scattered tens of thousands of civilians.
Predominately Muslim rebels, known as Seleka, toppled President Francois Bozize last March. Killings and abuses carried while they were in power led to the creation of a mainly Christian self-defence militia known as "anti-balaka".
Around 1 million people have been displaced by the violence. UN officials estimate that at least 2,000 people have been killed since the start of the crisis, but say the actual figure will be much higher as mass graves as unearthed and killings continue.
Violence has escalated since Seleka leader Michel Djotodia quit power in January under international pressure. Seleka's retreat has led to Muslims fleeing the south and warnings from a top UN official of "ethnic-religious cleansing."