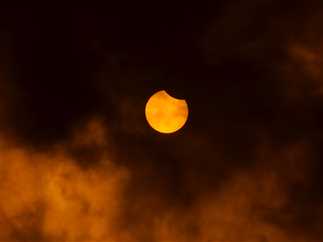 Helwan Observatory will receive the public and astronomy enthusiasts to follow the solar eclipse for free on solar eclipse, October 25.
On that day a partial solar eclipse is predicted, which is the second and last in 2022, according to the National Research Institute of Astronomy and Geophysics.
Solar eclipse phenomenon
The phenomenon of a solar eclipse occurs when the sun, the moon and the earth are aligned in a straight line, so that the moon passes between the earth and the sun; which leads to blocking the image of the sun completely or partially for the inhabitants of the Earth.
The solar eclipse indicates the imminent birth of the new crescent, as the center of the eclipse is the date of the birth of the new moon.
The most appropriate time to watch the partial eclipse of the sun in Cairo starts at approximately 12 pm, and its peak will be at 1:09 pm, when the moon's disk covers about 37.3 percent of the sun's disk. The solar eclipse ends at approximately 2:16 pm.
The public will enter the Helwan Observatory for free without any fees, and there will be a research team equipped with advanced monitoring devices to follow the event, and other devices designated for the public equipped with special light filters.
The solar eclipse can also be watched through the live broadcast that the National Astronomical Research Institute will make available on its official website and the institute's social networking pages.
Watching the partial solar eclipse
There are some caveats that must be taken into account when watching a partial solar eclipse, as Ashraf Tadros, Professor of Astronomy at the Institute, warned against the danger of looking directly at the sun with the naked eye during the eclipse.
He advised the use of approved solar filters when watching a solar eclipse.
Tadros warned against using other traditional means such as smoked glass, regular sunglasses, medical X-ray films, old computer magnetic disks, etc., because it only blocks harmful rays partially, which poses a serious danger, as it can burn the retina of the eye, if used for a period of more than 30 seconds.
Edited translation from Al-Masry Al-Youm