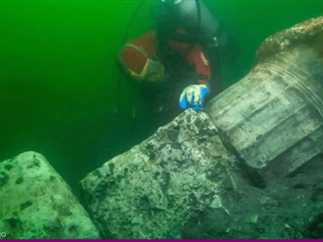 "The ancient Egyptian city of Heracleion was once a bustling trading port. Now, it lies 45 metres (about 148 feet) under the Mediterranean Sea," a report by Science Alert said.
A few weeks ago, Egyptian and European researchers announced the discovery of a collection of treasures in the city under Abu Qir Bay, Alexandria.
The new findings are considered the most important since the discovery of the city about 20 years ago.
In the latest discovery, Egyptian and European researchers found the remains of a temple in addition to ships loaded with treasures such as coins and jewels.
French archaeologist Frank Gaudio, who led the underwater archaeological mission at Heracleion, believes the team has found the stone columns from the city's main temple called Amun Garp as well as the remains of a smaller Greek temple.
The mission used sophisticated scan tools to unearth the buried treasures from under the seabed and sediments. They also used geophysical data from satellite positioning, echo sounders, nuclear magnetic resonance magnetometers and side-scan sonar to locate the remains of the temple and other treasures.
Researchers found bronze coins dating back to the reign of King Ptolemy II, pottery, jewelry, and storage utensils found in the remains of several ships. The remains indicated that the city of Heracleion may have been inhabited beginning from at least the fourth century BC.
It's believed that Heracleion was built during the eighth century BC on the banks of the Nile, and legend says that the city bears its name because the hero Hercules himself once visited it.
But how this city ended up in the depths of the Mediterranean is a mystery that still puzzles historians. There are theories to explain the mystery, such as sea level rise and seismic activity.
"The best guess is that rising sea levels, seismic activity, and crumbling foundations caused the entire city to slide into the Mediterranean at least 1,000 years ago," Science Alert concluded.
Edited translation from Al-Masry Al-Youm