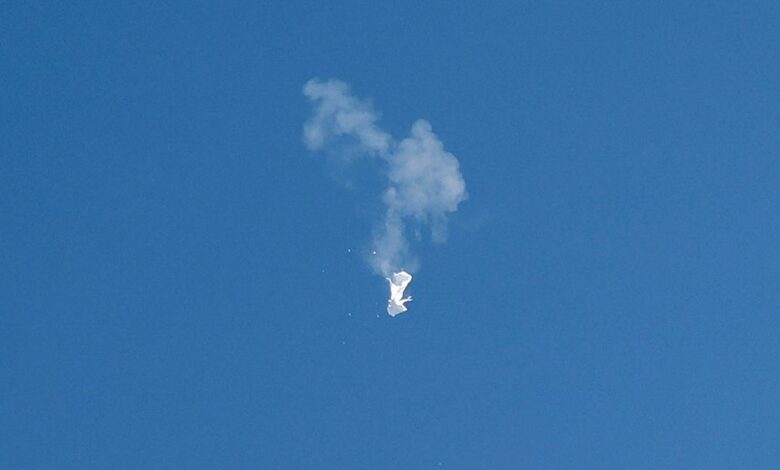 An unidentified object was shot down over northern Canada on Saturday, marking the third time in a week that US fighter jets have taken down objects in North American airspace.
On Friday, an unidentified object was shot down in Alaska airspace by a US F-22, and last weekend, a Chinese surveillance balloon was taken down by F-22s off the coast of South Carolina.
There's no indication at this point that the unidentified objects have any connection to China's surveillance balloon but it seems that national security officials across the continent remain on edge. Airspace was briefly closed over Montana before being quickly reopened on Saturday evening after a radar anomaly prompted a jet to investigate before an all clear was given.
Here's what we know so far
The unidentified object that was shot down in Canadian airspace had been tracked since Friday evening, according to a statement from Pentagon spokesman Brig. Gen. Patrick Ryder.
The object was detected by North American Aerospace Defense Command (NORAD), and two F-22 fighter jets from Joint Base Elemendorf-Richardson, Alaska, were sent up to monitor the object with the help of the Alaska Air National Guard.
The object appears to be a "cylindrical object" smaller than the Chinese surveillance balloon that was shot down previously, Canadian Defense Minister Anita Anand said at a news conference on Saturday.
"Monitoring continued today as the object crossed into Canadian airspace, with Canadian CF-18 and CP-140 aircraft joining the formation to further assess the object," Ryder's statement said.
US President Joe Biden and Canadian Prime Minister Justin Trudeau both approved the shoot down on Saturday, according to a statement from the White House.
"President Biden authorized US fighter aircraft assigned to NORAD to conduct the operation and a US F-22 shot down the object in Canadian territory in close coordination with Canadian authorities," the White House statement said. "The leaders discussed the importance of recovering the object in order to determine more details on its purpose or origin."
The object was shot down with a AIM-9X missile from a US F-22 – the same missile and aircraft that shot down an unidentified object on Friday, and the Chinese surveillance balloon on February 4.
"The object was flying at an altitude of approximately 40,000 feet, had unlawfully entered Canadian airspace and posed a reasonable threat to the safety of civilian flight. The object was shot down approximately 100 miles from the Canada-United States border over Canadian territory in central Yukon," she said.
Ryder's statement said that while Canadian authorities conduct recovery operations, the FBI will be "working closely with the Royal Canadian Mounted Police."
The third such shoot-down for US aircraft in one week
Saturday's take down of an unidentified object is the third such incident in one week.
On Friday, an unidentified object was shot down by a US F-22 over Alaskan airspace after it had been monitored by the US since Thursday evening.
Pilots gave different accounts of what they observed after coming near the object, a source briefed on the intelligence told CNN; some pilots said it "interfered with their sensors," but other pilots said they didn't experience that.
The object was flying at 40,000 feet, which made it a risk to civilian traffic. That set it apart from the Chinese surveillance balloon, which was traveling "well above commercial air traffic," Ryder said at the time.
The Chinese balloon was shot down off the coast of South Carolina last Saturday after traveling across the US. Biden administration officials said it posed little intelligence gathering and military risk.
It did, however, pose a risk to people and property on the ground if it were to be shot down, as officials said it was roughly 200 feet tall and the payload weighed more than a couple of thousand pounds.
The US military is still working to recover debris from the balloon on the ocean floor. Ryder said Friday that they have "located a significant amount of debris so far that will prove helpful to our further understanding of this balloon and its surveillance capabilities."