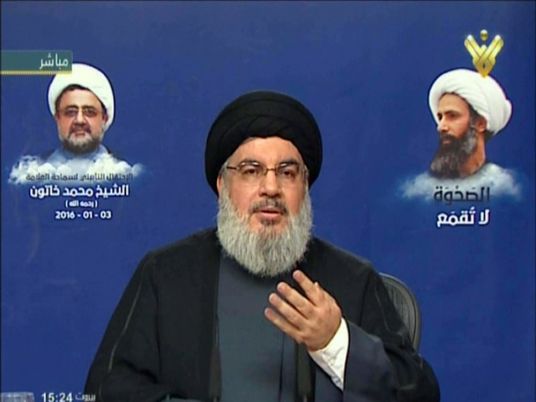 The leader of Lebanon's Hezbollah movement said on Friday it will send more fighters to Syria's Aleppo area, a battleground where it has suffered heavy losses fighting alongside Syrian government forces against insurgent groups.
Sayyed Hassan Nasrallah said thousands of Hezbollah's Sunni militant foes had recently entered Syria via the Turkish border with the aim of taking over Aleppo and its surrounding countryside.
"We are facing a new wave…of projects of war against Syria which are being waged in northern Syria, particularly in the Aleppo region," Nasrallah said in a speech broadcast live on the group's Al Manar TV.
"The defense of Aleppo is the defense of the rest of Syria, it is the defense of Damascus, it is also the defense of Lebanon, and of Iraq," he said.
"We will increase our presence in Aleppo," he said. "Retreat is not permissible."
Shi'ite, Iranian-backed Hezbollah has long supported President Bashar al-Assad against mostly Sunni insurgents.
Aleppo has been a focus of intensified fighting in the months since peace talks in Geneva broke down and a ceasefire deal brokered by Washington and Moscow unraveled. Russia intervened in the five-year-old conflict in September with an air campaign to support Assad.
"It was necessary for us to be in Aleppo … and we will stay in Aleppo," Nasrallah said.
Aleppo city is split between government and rebel control. Russian and Syrian warplanes have pounded a road leading from the rebel-held areas north towards the Turkish border. That major rebel supply line from Turkey to Aleppo city was effectively cut by government advances earlier this year.
A pro-Damascus source recently told Reuters government forces and their allies are trying to encircle rebels in the Aleppo area. Assad, for whom the recapture of Aleppo would be a strategic prize, has vowed to take back "every inch" of Syria from what he calls terrorists.
Russia's intervention has helped government forces and their allies advance against insurgents, and separately against Islamic State, in some areas.
But some of those battles have been costly, including around Aleppo.
Islamist insurgents including the al Qaeda-linked Nusra Front in May inflicted heavy losses on a coalition of foreign Shi'ite fighters including Iranians and Hezbollah members south of Aleppo.
Nasrallah said that 26 Hezbollah fighters had been killed in June alone, a rare acknowledgment of the toll their involvement is taking. Several of its senior military commanders have died in the Syrian conflict, alongside hundreds of fighters.
Nasrallah also denied Hezbollah was in imminent fiscal trouble as a result of a U.S. law targeting the group's finances. The law, passed in December, threatens to bar from the American financial market any bank that knowingly engages with Hezbollah. It has ignited a standoff between Hezbollah, a dominant political force in Lebanon, and the Lebanese central bank.