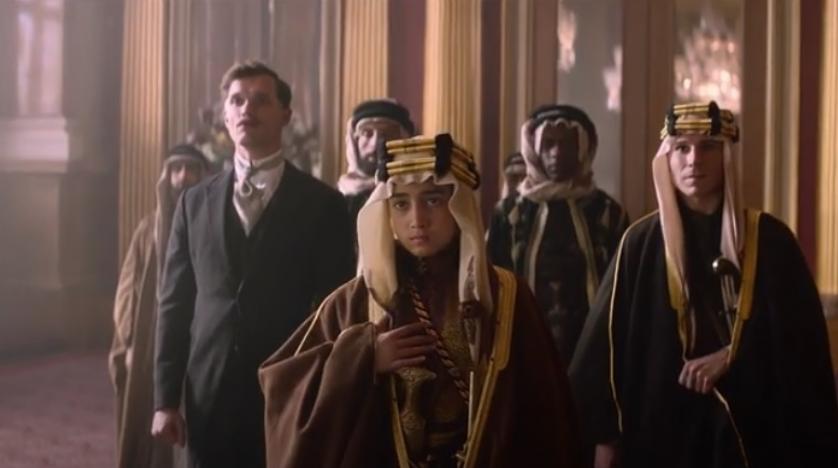 The historical movie "Born a King" (2019) topped box offices in Saudi Arabia and gulf countries as 59,000 persons, including 30,000 viewers in Saudi Arabia, watched the movie since its September 26 release.
The movie narrates the early life of King Faisal bin Abdel Aziz and his 1919 visit to the United Kingdom, where he represented his father King Abdel Aziz at a meeting with King of England George V at the tender age of 13.
The movie, starring Ed Skrein ("Deadpool"; 2016) and Hermione Corfield ("Mission Impossible: Rogue Nation"; 2016), was produced by Spanish film producer Andrés Gómez, who won a Best Foreign Language Film category Oscar for "Belle Epoque".
The Spanish film director Agusti Villaronga directed the movie while the Saudi writer Bader Al Samari as well as Henry Fitzherbert and Ray Loriga wrote the script.
Saudi Arabia's first cinema in nearly 35 years opened in April in Riyadh. It's expected that around 350 cinemas will open in the country by 2030.
Crown Prince Mohammed bin Salman is driving the country toward modernization and liberalization, seeking to open up the country of 30 million people and promote the image of "moderate Islam."
As part of the push, the 32-year-old heir to the throne has sought to boost entertainment opportunities, at times running up against the conservative Islamic establishment.
Among the crown prince's recent social changes have been boosting sports and entertainment opportunities and allowing women to drive cars as of June 2018.
Edited translation from Al-Masry Al-Youm