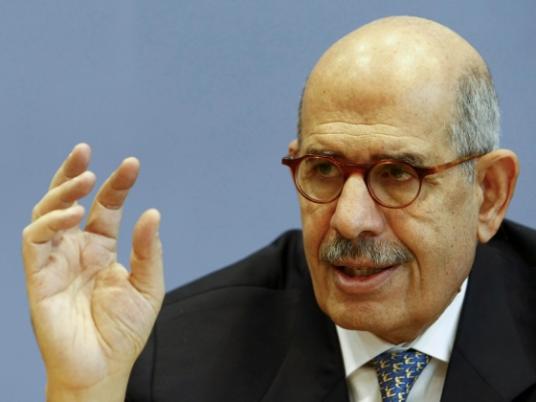 The new Constitution Party, spearheaded by leading Egyptian dissident Mohamed ElBaradei, postponed a public rally slated for Friday, 18 May to a later date.
In a statement issued on Sunday, the party attributed its decision to the tragic circumstances the country currently faces, and out of respect for the blood shed during the clashes outside the Defense Ministry in Abbasseya last week.
The party said the decision was made after consultations with its interim steering committee and founders, including Mohamed ElBaradei, former director of the International Atomic Energy Agency.
ElBaradei, a former Nobel Laureate, has said the goal of the new party is "to rescue the great 25 January revolution that has diverted from its course."
ElBaradei, who had considered standing in next month's presidential election but ultimately decided against it, called the military-led transitional period since the uprising that ousted President Hosni Mubarak in February 2011 "tragic."
Other founders of the party include author Alaa Al Aswany, Ain Shams University law professor Hossam Eissa, media personality and one-time parliamentary candidate Gameela Ismail, Hala Shukr, Sayed al-Masry, political activist Ahmed Harara and poet Ahmed Fouad Negm.