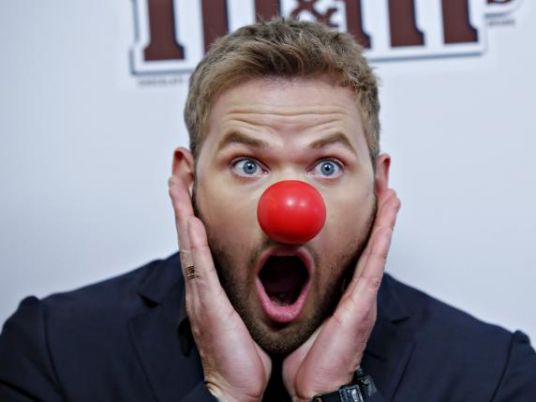 Hollywood stars joined top music acts on Thursday for the first US Red Nose Day, a charitable drive that raises funds for children in need around the world.
In all more than 100 stars, including Oscar winners Julia Roberts, Gwyneth Paltrow, Eddie Redmayne, Julianne Moore and Helen Mirren appeared either live or in taped comedy segments, many of which satirized the entertainment world.
NBC's three-hour live telecast was hosted by Seth Meyers, David Duchovny and Jane Krakowski.
Meyers, making much of Red Nose Day's 30-year history in Britain, where it has raised more than $1 billion, joked that the event's main goal was "to raise enough money to rub this in England's stuck-up face."
Accordingly, Simon Cowell, Naomi Campbell, Ian McKellen and Mirren were all seen toiling backstage, ostensibly performing technical or menial tasks such as serving beverages or in Benedict Cumberbatch's case, handling cue cards.
Other highlights of the marathon broadcast, which included segments featuring Jack Black visiting poverty-stricken areas worldwide, included Coldplay's appearance as the centerpiece of a sketch film documenting the creation of "Game of Thrones: The Musical."
Several cast members of the HBO show including Kit Harington, Diana Rigg and Peter Dinklage took part, with Liam Neeson narrating.
Roberts was the focus of another bit as co-star Richard Gere weighed in on her "real," gruffly masculine speaking voice, which Gere compared to a prizefighter's.
Clips of Roberts, her voiced so-dubbed, followed, along with James Bond star Daniel Craig speaking with the voice of a small girl, and action star Neeson sounding like he had inhaled helium.
Another sketch purported to show hit male-dominated movies recast with actresses, including riffs on "Indiana Jones," "The 40 Year Old Virgin," "Three Men and a Baby" and "12 Angry Men." In the last, the women jurors come quickly to a unanimous verdict, then argue at length about where to get lunch.
Musical performers included U2, John Mellencamp and Keith Urban, while the judging panel from "The Voice" appeared in several comic bits.
Fundraising stunts included Nick Cannon dancing for 24 hours straight and "Today Show" host Matt Lauer bicycling from Boston to New York.
Other stars who appeared, either live or in taped segments, included Emily Blunt, Neil Patrick Harris, Diddy, Reese Witherspoon and Jennifer Aniston.
Two hours into the show, donations stood at $10.7 million, and will continue online and via telephone through the night.