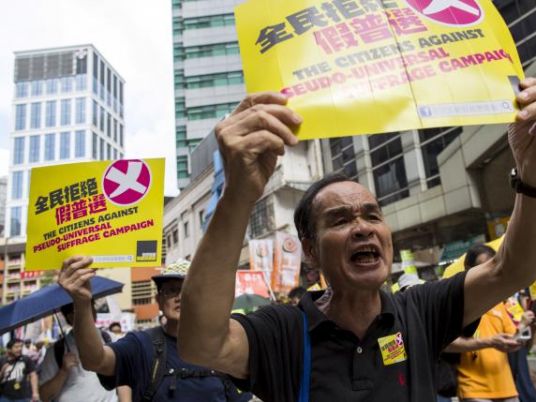 Seven Hong Kong police officers were charged Thursday with assaulting a pro-democracy protester in a beating captured on video — but the victim is also now facing arrest in the heavily criticised case.
It is one year to the day since the attack on Civic Party activist Ken Tsang, footage of which was beamed around the world at the height of mass protests for free leadership elections in Hong Kong.
"Seven police officers have been jointly charged with one count of causing grievous bodily harm with intent," a police spokeswoman said Thursday.
She would not give the names and ages of the officers who have been released on bail and will appear in court on Monday.
But Tsang himself said he now also faces charges of assaulting and obstructing police, which he dubbed as "ridiculous". He was asked to attend a police station on Thursday.
Video footage aired by local television network TVB showed a group of men hauling a handcuffed Tsang to a dark corner in a public park in the early hours of October 15 last year.
One stands over him and punches him, as three others are seen repeatedly kicking him, in a case that has rocked the reputation of the normally respected police force.
Seven officers were arrested in November and suspended from duty over the attack but the case then stalled.
The authorities withheld the identities of the seven involved, believed to be plainclothes police, and the delay in bringing the case to court has been slammed by Tsang and his supporters.
On Thursday a furious Tsang expressed his shock at receiving a call from police telling him that he was to be arrested and charged for attacking officers.
He told reporters he faced one count of assaulting police and four counts of obstruction.
It was not clear what incident the allegations relate to.
Tsang said there was no basis for the charges which he said were "groundless, over the top, ridiculous and against the facts" and that it was a ploy to "dilute" the case against the police.
"All this should not be happening one year later… I feel that the government is just trying to make a stand by arresting me," he said.
Police refused to comment on the case against him.
Tsang was granted permission in July for a judicial review challenging the decision not to identify his assailants.
He and his legal team argue that if the names are revealed they can pursue the case privately, in the event that the public case fails.
Tsang and his supporters gathered Wednesday night at the spot where he was attacked for a candlelit vigil against police violence.