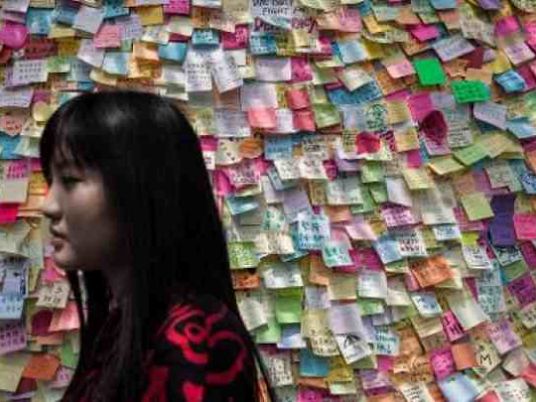 Pro-democracy protesters have vowed to rebuild the famous "Lennon Wall" which sat at the heart of Hong Kong's main protest camp, after it was swept clear by police.
The wall at the centre of the camp became a patchwork of thousands of multi-coloured sticky notes carrying messages of support for protesters — an emotive symbol of the pro-democracy movement that paralysed parts of Hong Kong for more than two months.
The sprawling camp of tents, supply stations and art installations in the Admiralty business district was cleared in a police swoop Thursday.
But ahead of the clampdown, volunteers spent a night painstakingly collecting and photographing an estimated 15,000 messages plastered on the wall, which ran alongside a staircase at the side of a government building.
Now the protesters, who were demanding fully free leadership elections in 2017, say they will reassemble the display both digitally and physically.
"The event is not over for us and the meaning and spirit of the wall is not lost. We will continue to find different avenues to spread the message which the wall represents," said software engineer Allen Tang, 31, who helped to dismantle the wall and is overseeing its digital rebirth.
An online version of the wall will go up early next year, said Tang, and will include more than 13GB of photos of the notes. Visitors to the website will also be able to add their own "electronic Post-Its".
The notes are being held in temporary storage and organisers also hope to recreate the wall in a physical exhibition at some point in the future.
Tang said options included displaying them in a warehouse.
The "Lennon Wall" was inspired by the original in Prague, which became a focal point for dissidents to voice their grievances with the ruling communist regime in the 1980s, often using images and lyrics inspired by John Lennon and the Beatles.
The mission to save it came as other art groups made a last-minute mercy dash to save works from the protest camp, which became a creative hub filled with sculptures, paintings, posters and banners.
"It was very difficult for us to start peeling the Post-Its off. Some of us just stood there for some time before actually starting the removal process," Tang told AFP.
By Thursday morning the wall had been reduced to a slab of empty grey concrete.
Instead, campaigners had spelt out the words "We are dreamers" in yellow, pink, blue and green sticky notes, a reference to lyrics from John Lennon's "Imagine".
Now even those have gone.
Campaigners working to preserve the protest artwork say local museums have refused to take it.
But a spokeswoman for Hong Kong's cultural department said it had "not received any formal request about collecting or archiving the creative objects and artworks created at the Occupy Central protests".