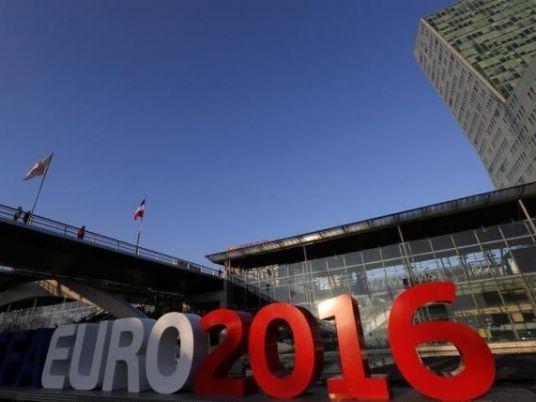 Packs of Russian and English football fans clashed in the French city of Marseille in a third straight day Saturday, as the specter of hooliganism returned to European football at the Euro 2016 championship.
Fans brawled before and after the match at Marseille's Stade Velodrome, forcing police in riot gear to fire tear gas to disperse crowds. In chaotic scenes involving hundreds of fans, throngs lunged at one another, and hurled bottles and other objects at officers.
Distressing footage that emerged from the French port city included scenes of men kicking and stamping on another person lying on the street in broad daylight.
After the game, in which the two sides tied 1-1, Russian fans charged at the section where their British counterparts sat as chaos ensued. Smoke filled the streets as panicked fans fled.
Rebekah Vardy, wife of English striker Jamie Vardy, was critical of the crowd policing.
"That has to be up there with the worst experience EVER at an away game! Teargassed for no reason, caged and treated like animals! Shocking!" she wrote on her Twitter account, calling the scenes "horrific and uncalled for."
At least 31 people were injured in the clashes, four of them seriously, said Mathieu Duroselle, a spokesman for Marseille police. The number included three officers who suffered slight injuries, he said.
At least 17 people were arrested over two days, police said Saturday.
France deploys extra security
The French Interior Ministry classified the England vs. Russia match "at risk" and police sent in reinforcements.
"About 1,000 police officers were deployed to secure the game," Duroselle said. "The situation seems calm now by the stadium and it seems like bars are closed."
Tournament organizers UEFA, the governing body of football in Europe, said it will make an announcement Sunday regarding disciplinary proceedings, once it has received more information from its disciplinary departments.
This could mean sanctions for Russia or England or both.
"People engaging in such violent acts have no place in football," said the UEFA, the administrative body for association football in Europe.
French taking extraordinary steps
The French Interior Ministry announced international moves to keep hooligans out of the country during the European Championship.
At the request of French authorities, Britain retained the passports of thousands of people considered hooligans, stopping them from coming to France during the competition.
"There have been 3,000 entry denials by the Minister of Interior, based on lists of people who are banned from stadiums in different countries participating in the competition, or individuals likely to disrupt the order in national territory," the Interior Ministry said.
Two hundred foreign police officers had also traveled to France to help prevent any outbreaks of violence during the tournament.
The game had been identified as a potential flashpoint, with measures to prevent violence introduced, including bars closing early in the Vieux-Port area in Marseille — the same area clashes broke out Thursday and Friday nights among football fans.
Multiple bars in the area said they shut their doors at 8 p.m. local time Saturday. Among the bars is O'Malley's, an Irish pub that usually closes at 11 p.m.
CNN law enforcement analyst Steve Moore said that violence among fans had become less of a feature of football tournaments in recent years, as the game's administrators looked to stamp it out of the game.
The scenes in Marseille, he said, "were broadly in line with what we would have expected about 15 years ago."