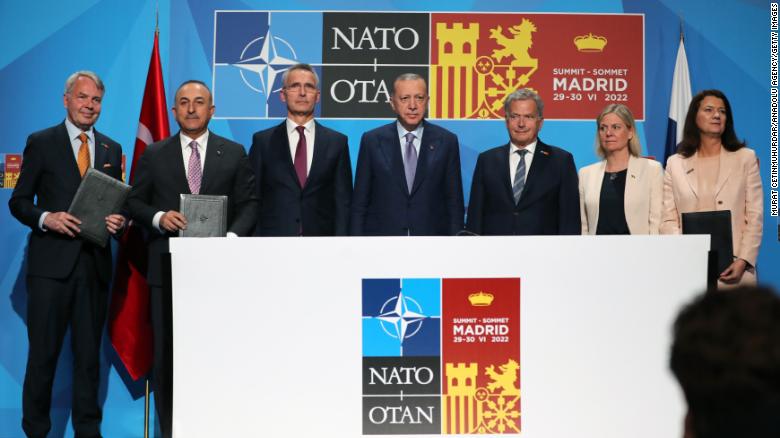 Abu Dhabi, UAE (CNN) – NATO formally invited Finland and Sweden to join on Wednesday after Turkey dropped its opposition following an arduous process that has served to remind the alliance of its deepening fault lines.
Finnish President Sauli Niinistö said that Ankara had agreed to support the membership bids of his country and Sweden, removing a major hurdle to the two joining the alliance.
While the move was a big win for NATO and a setback for Russia, Turkish President Recep Tayyip Erdogan didn't give in without a fair share of political chest-thumping as a display of his nation's weight in the grouping.
Before signing a joint memorandum with the two Nordic nations, Erdogan on Tuesday declared that NATO "cannot afford" to lose Turkey as a member. He was responding to frustration in the Western alliance over Ankara's opposition to the admission of the two traditionally neutral countries that felt compelled to join the grouping by Russia's invasion of Ukraine.
Turkey has become a headache for NATO. But recent geopolitical events have shown that it's one the alliance will have to tolerate. Experts say Erdogan knows that well and has used his country's place in the grouping to serve its national interests.
In a European war that has essentially become a conflict between the Kremlin and NATO, Turkey has positioned itself as a neutral party, opting not to join its allies in sanctioning Russia while offering to mediate between the warring parties. It has supported Ukraine in the war but has been careful not to antagonize Moscow.
Experts say Turkey is today more valuable than ever to NATO. The country sits at the south-eastern flank of the alliance, a key buffer between Russia and the West. It maintains the second-largest army in the alliance after the US, and borders a swathe of Middle Eastern nations with a history of political instability, and where Western states have major interests.
Ankara, however, hasn't always been a thorn in the side of the alliance.
Turkey joined NATO in 1952, three years after it was formed in the aftermath of World War II, and it considers the alliance to be "the cornerstone" of its defense and security policy. But analysts and historians say that while Turkey served the group's strategic interests historically, it has become more of a disruptive force under Erdogan's rule.
Erdogan served as prime minister from 2003 to 2014, and president since 2014.
"During the Cold War, Turkey [was] well-embedded in Western security infrastructures," said Oya Dursun-Ozkanca, a political science professor at Elizabethtown College in Pennsylvania and author of "Turkey-West Relations: The Politics of Intra-Alliance Opposition," adding that the country had been a "fairly reliable" Western ally for over half a century.
The frequency and the intensity of disagreements between Turkey and NATO allies have however increased over time as Ankara adopts proactive and anti-Western foreign policy positions, she said.
Erdogan has disagreed with NATO allies on a number of issues, including Syria and Libya, and has used his country's strategic location to extract concessions from his European neighbors by threatening to open the floodgates of refugees from neighboring conflict zones.
In 2009, Turkey opposed the appointment of Denmark's Anders Fogh Rasmussen as head of NATO until then-US President Barack Obama pledged that one of Rasmussen's deputies would be a Turk. Turkey had argued that Rasmussen's handling of the offenses to Prophet Mohammed in a Danish newspaper in 2006 were problematic.
In perhaps its boldest and most controversial move, Turkey in 2019 bought the Russian S-400 missile defense system, calling into question a decades-long alliance with both the US and NATO. The S-400 missiles were designed to shoot down NATO planes.
Sinan Ulgen, a former Turkish diplomat and chairman of Istanbul-based think-tank EDAM, said Erdogan's "hyper-centralized decision-making" and his "combative, more aggressive, [and] less consensus-driven" leadership style has caused difficulties for NATO.
"This is also a reflection of the increased unpredictability of Turkish foreign policy," he said.
But experts say that it's only natural that a member of an alliance will prioritize national interests where it can. The problem arises when those interests diverge from NATO's agenda.
"The Turks complicate NATO's consensus-based decision-making because they refuse to go with the flow until national interests are satisfied," said Rich Outzen, a senior fellow at the Atlantic Council in Washington, DC and former US military officer and State Department official.
"This is not bad alliance behavior; it is typical alliance behavior for states with the weight to pull it off," he added.
While Turkey understands its value to NATO, it also sees its own benefit in its membership, analysts say. Ankara has gone to NATO more than once for strategic security support, said Ulgen. "It is a security and political relationship that is mutually beneficial.
"Ultimately Turkiye and NATO do need each other," he said, using the country's new name.