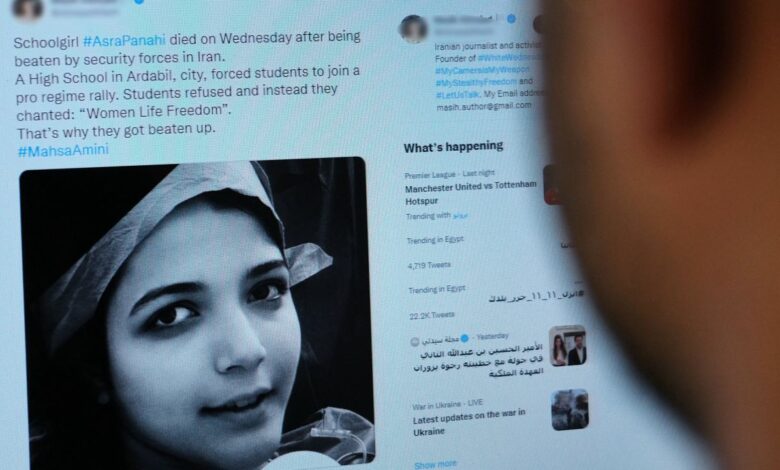 Abu Dhabi
CNN
 —  On Monday, Canadian Prime Minister Justin Trudeau posted a tweet saying "Canada denounces the Iranian regime's barbaric decision to impose the death penalty
on nearly 15,000 protestors
." Twelve hours later, it was deleted.
The tweet appeared to allude to a false narrative on Iran that had been circulating online, at times pushed by anti-regime activists, that had been quickly debunked by experts.
Trudeau's post had been retweeted over 6,000 times before being removed. The false news was also tweeted by celebrities with a sizable following.
"Justin Trudeau was perhaps one of the most-shared and influential proponents of the story," said Marc Owen Jones, an associate professor at Qatar's Hamad Bin Khalifa University who specializes in digital disinformation. "Given his general reputation as someone who is not particularly sensationalist or misleading, it certainly gave legitimacy to the misinformation."
The incident shows the far reach of misinformation in the age of social media and its amplification by those in positions of power amid limitations on independent reporting from the ground.
A Canadian government spokesperson told CNN that the tweet was deleted because it "was informed by initial reporting that was incomplete and lacked necessary context."
"It was based on reporting of serious concerns raised by international human rights advocates warning of possible future sentences, including the death penalty, imposed on thousands of Iranian protesters who have already been detained by the regime," the spokesperson added.
Instagram, where one post citing the false news went viral, tagged it as "false Information" and said, "independent fact-checkers say this information has no basis in fact."
According to Iranian state media, five protesters have so far been sentenced to death.
So how did the false news about 15,000 death sentences spread?
Last week, Javaid Rehman, the UN's special rapporteur on human rights in Iran, said that "over the past six weeks, thousands of men, women, and children – by some accounts over 14,000 persons – have been arrested, which includes human rights defenders, students, lawyers, journalists, and civil society activists."
That number claims to be the total number of those arrested since the beginning of the protests. CNN cannot independently verify the arrest figure or the death toll – precise figures are difficult for anyone outside the Iranian government to confirm – and different estimates have been given by opposition groups, international rights organizations and local journalists.
The viral social media post and Justin Trudeau's tweet appeared to conflate the estimated number of those arrested with those facing the death penalty. While some Iranian protesters have been charged with crimes punishable by death, not all of those arrested have been.
"As of Friday, we were aware of nine cases in which the charge could carry the death penalty but we expect the number to be higher," said Tara Sepehri Far a senior researcher in the Middle East and North Africa division at Human Rights Watch.
Some protesters have also been freed since their arrest and it is unclear how many of the estimated 14,000 arrested remain in prison.
The social media posts pushing the false narrative also referred to a November 6 letter signed by 227 of Iran's 290 members of parliament that urged the country's judiciary to "show no leniency" to protesters. That letter carries no legislative weight, and it didn't specify a method of punishment, but did refer to the Islamic concept of 'qisas' or eye-for-an-eye retributive justice.
"Public sham trials as well as the letter sent by MPs are part of the system's tactic to portray their narrative of what is happening in Iran and intimidate protestors," according to Sepehri Far.
Some Western news outlets published headlines that may have contributed to the spread of the false narrative. Newsweek published an article with the headline "Iran votes to execute protesters, says rebels need 'hard lesson'," but corrected it on Tuesday to remove references to parliament voting for death sentences. It also ran the headline "Iran protesters refuse to back down as 15,000 face execution," which was corrected. London-based Iran International meanwhile published a piece titled "Iranian lawmakers urge judiciary to sentence protesters to death."
The threat of mass executions however is real and persists in Iran. The New York-based Center for Human Rights in Iran (CHRI) has accused Iranian President Ebrahim Raisi of crimes against humanity for being part of a four-man "death committee" that oversaw the execution of up to 5,000 political prisoners in 1988. His two years as Iran's chief justice were marked by the intensified repression of dissent and human rights abuses. Amnesty International has demanded that he be investigated for alleged crimes against humanity over the deaths.
At least 326 people were killed in the protests, human rights organizations have said. CNN cannot independently verify the toll.
"Executions still continue to be a key part of the regime's attempts to silence and control Iran's people – in the past decade the Islamic Republic has consistently ranked as the top executioner per capita in the world," said Gissou Nia, a human rights expert at the Atlantic Council in Washington, D.C.
Sepehri Far of Human Rights Watch said the incident plays into the hands of the Iranian government "because they've committed enough atrocities… it gives them an opportunity to point to conspiracy theories."
State news outlets covered the deletion of the tweet, accusing Canada of spreading false information and supporting "rioters."
Iran's foreign ministry didn't respond to CNN's request for comment on Trudeau's tweet, but Seyed Mohammad Marandi, an Iranian professor with close ties to the regime, was quick to respond, calling the prime minister "so morally bankrupt that he will repeat any lie to achieve his objective."
Jones noted that a government official "taking an unsubstantiated claim based solely on media reporting is quite worrying. World leaders should be getting better intel, ideally from their own government about such stories before tweeting, especially when those claims are about something so egregious."
With additional reporting by Abbas Al Lawati.