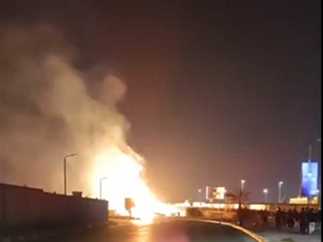 The Civil Protection Forces in the Cairo Security Directorate controlled a huge fire that broke out a gas lines in Nasr City.
This occurred after a loader that was digging in the area for the water company hit the gas line causing the gas leak.
"(Authorities) immediately moved to the scene of the incident of the gas source  and the forces were able to extinguish the fire and prevent its spread, while cooling work is currently being carried out," the Ministry of the Interior said in a statement, on Thursday morning.
According to the Cairo Governorate task force, a fire broke out near the Al-Ahly club headquarters in Nasr City and the Civil Protection Forces immediately deployed four fire engines, and the fire was controlled without injuries or deaths.