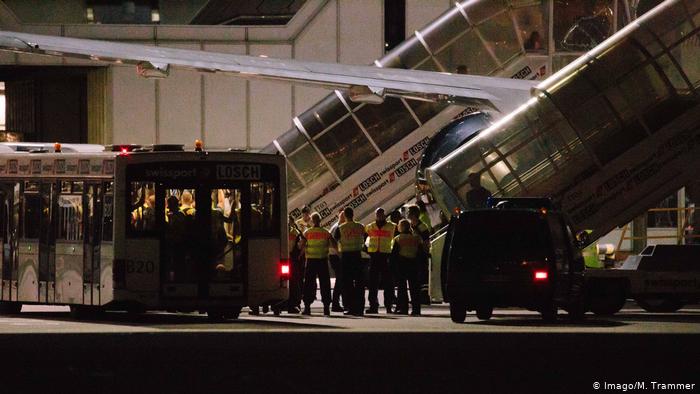 The Council of Europe's anti-torture committee on Thursday accused German police of mistreating an Afghan man who was being deported after observing that police squeezed the man's genitals and choked him.
"To ill-treat a person by squeezing the genitals, a technique which is clearly aimed at inflicting severe pain to gain compliance, is both excessive and inappropriate," the council's Committee for the Prevention of Torture (CPT) said in a report.
Read more: Is Germany reassessing its role in Afghanistan?
Deportee 'struggled to breathe'
The report focused on an August 14, 2018, charter flight that carried 46 Afghans from Munich to Kabul on behalf of the EU border agency Frontex after their asylum requests had been denied.
Three CPT representatives were also on the flight, along with about 100 German police officers, six of whom restrained the Afghan man.
The deportation was largely conducted in a professional manner, the report said, but two men resisted being sent to Afghanistan and were placed in handcuffs and leg restraints to be brought on board the plane, the report said.
When one of the men continued struggling with police in the plane, one officer pushed his arm against the man's neck so "the returnee started struggling to breathe" while another taped him to his chair, squeezing the Afghan man's genitals several times, the report said.
"The CPT considers that any use of force must avoid inducing a sensation of asphyxia on the person concerned," the report said.
Germany should 'take immediate action'
The CPT recommended that German authorities "take immediate action to end the application of these two techniques by Federal Police escort officers."
In its response, Germany said it had forwarded the recommendations to federal police to take action.
Rejected asylum-seekers need time to face deportation
The 34-page CPT report criticized the short amount of time rejected asylum-seekers sometimes have between their application being denied and their deportation. The committee said it was essential people have time to psychologically process their situation, even if they are being held in custody pending deportation. The CPT said failed asylum-seekers sometimes received less than a week's notice of their impending deportation.
Read more: Afghanistan: Sent back to a war zone
Bavarian authorities replied that people in custody did not need to know the exact date of their deportation because the fact they were in custody made clear they would soon be expelled.
The CPT also called it "concerning" that seven people were returned to their homelands between 2017 and 2018 even though their legal appeals of the deportation orders were still pending.
The decision to expel Afghan people is controversial due to the levels of violence and unrest in Afghanistan.
In 2016, Germany and Afghanistan signed an agreement on the expulsion of Afghans whose asylum requests have been rejected.
The CPT is responsible for ensuring that the process is free from acts of torture, or inhuman or degrading treatment.
law/sms (AFP, AP, DPA)