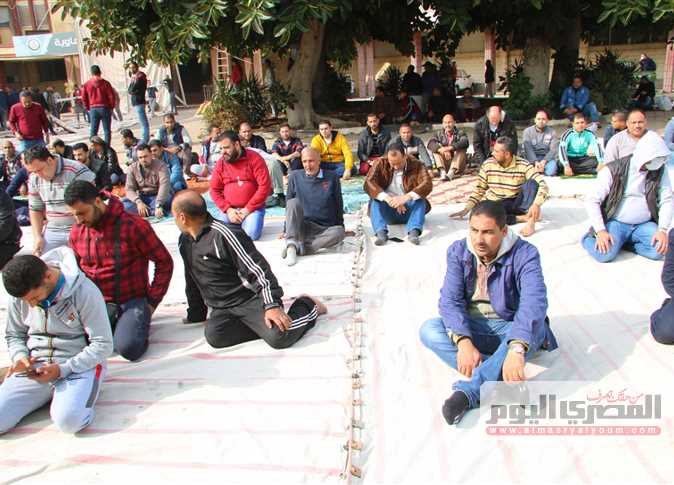 Hundreds of workers at the Delta Company for Fertilizers and Chemical Industries (Talkha Fertilizer), a state-owned company in Egypt, staged a sit-in on Friday to protest the Daqahliya governor's decision to sell off the factory land to become a residential compound.
Setting up tents to sleep inside the factory, the workers enforced their opposal to sell off the factory as it would displace numerous workers whose livelihoods and families depend on their job.
According to the head of the factory's worker union committee Mohamed Gado, the incident was sparked when a man accompanied by a committee visited the plant. When they asked the man about the purpose of the visit, Gado said the answer shocked them.
"He said that he came to make a survey of the factory's land in preparations for establishing a residential compound on its land, and that the governor of Dakahlia obtained approvals to transfer the factory and workers to Suez, and that he had been informed is that the factory has been empty since April," Gado said, adding that "this is totally nonsense."
The Delta Company for Fertilizers and Chemical Industries is one of the biggest fertilizer companies in Egypt, he explained, with five factories employing over 2,500 workers, and they are all from Dakahlia governorate.
"It is not logical to close a factory and displace the workers in order to establish a residential compound!" he said.
Company chairman Abdel-Wahid al-Desouky clarified the reasons behind the committee's visit.
"We did not receive an official decision to move the factory, what happened was a a committee visited to survey the land upon instructions from the governor. The committee did its work and left, and we do not know the current situation," he explained.
The company announced back in September that it started a tender for specialized international companies to develop and modernize its factories located in Talkha, at the Dakahlia Governorate.
The Ministry of Public Business Sector said that this comes among its efforts to develop and reform its subsidiary companies.
Edited translation from Al-Masry Al-Youm