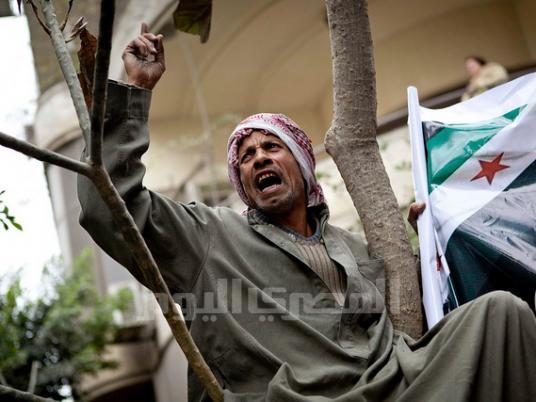 Hundreds of Syrian and Egyptian activists gathered outside the Syrian Embassy in Cairo Friday to call for the end of the regime of Bashar al-Assad.
Protesters chanted, "Go, leave, let Syria see the light." They demanded that Assad and his associates be prosecuted for what they said are his crimes against humanity and chanted against China and Russia for vetoing a UN Security Council resolution condemning the Syrian regime. They also raised banners demanding the expulsion of Syrian Ambassador to Cairo Youssef Ahmed and that the embassy be closed.
The demonstrators marched to the embassy after Friday prayers concluded at Omar Makram Mosque, near Tahrir Square, which is also located near the embassy in the neighborhood of Garden City.
The 25 January Revolution Youth Coalition on Thursday called for a march to support Syrians against what they say are massacres by Assad's regime, and called on the Egyptian government to recognize the opposition Syrian National Council and Free Syrian Army as legitimate representatives of the Syrian nation.
On Tuesday, Al-Azhar, Sunni Islam's preeminent institution, called for a swift Arab intervention in Syria to end the crisis, saying that Syrian civilians have the right to defend themselves and their families from attacks.
A group of protesters stormed the Syrian Embassy on 3 February, destroying furniture and setting some parts of the building on fire before security forces contained the situation. The embassy was also broken into on 28 January.