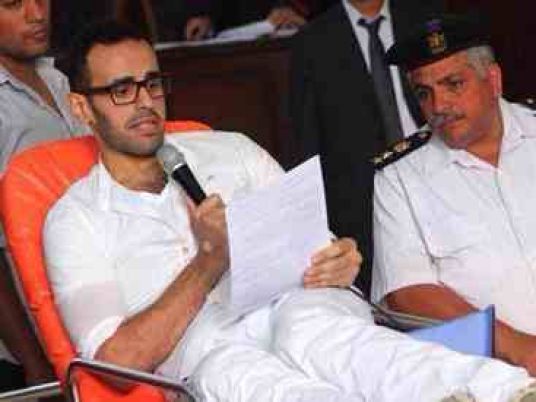 Hunger-striking detainee Mohamed Soltan told the court during a trial session on Monday that he started his strike over a year ago to protest his "lost rights" during detention.
"I started a hunger strike as a reaction," Soltan told the court, adding that he was "humiliated and tortured" during his detention. "I started the hunger strike so that my voice would be heard."
He is facing trial alongside his father, the Muslim Brotherhood's Supreme Guide Mohamed Badie and 48 others for managing an "operations room" following the dispersal of the two pro-Mohamed Mursi camps in August 2013.
The defendants are accused of using the operations room to "resist the state and spread chaos."
The trial was adjourned until March 16.
Soltan, who is the son of Brotherhood leading figure Salah Soltan, denied any political affiliation in his address to the court, adding that he would have been "proud" to announce such affiliation should it have existed..
He has been on hunger strike since January 2014 in protest over his detention, maintaining the longest hunger strike among those detained in Egypt. Soltan has repeatedly refused to end his strike and his life is believed to be in danger.
Soltan told the court that he was told to choose between revoking his Egyptian citizenship and remaining in prison, adding that he is adamant on keeping his Egyptian citizenship.
Dual national Soltan was arrested from his home on August 27, 2013 after the deadly dispersal of two camps set up in support of former President Mohamed Mursi following his ouster in July 2013
A presidential decree issued last November allows the deportation of foreign defendants and convicts "whenever the [state's] supreme interest necessitates so."
Should he give up his citizenship, Soltan, who already has an American citizenship, could benefit from the decree.
Muslim Brotherhood leaders and supporters have often found themselves behind bars and facing courts since the ouster of Brotherhood members and former President Mursi in July 2013.
The Brotherhood itself was listed as a terrorist organisation in December 2013.