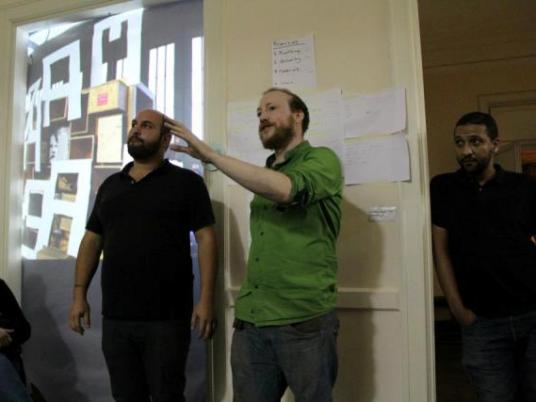 A new eco-hub, called icecairo, opened its doors to environmentalists, innovators, and entrepreneurs Monday evening for a soft launch event at its hub, located just off Talaat Harb street in downtown Cairo.
The stylized spelling, icecairo, stands for innovation, collaboration, and entrepreneurship. It is the latest 'ice' establishment of a growing international network of innovation hubs that aim to improve and develop green — sustainable and ecofriendly — technology markets. Others include icebauhaus in Germany and iceaddis in Ethiopia.
"The focus is not only on creating environmental awareness, but networking to develop the technological solutions required in order to address and solve environmental problems themselves," says Adam Molyneux-Berry, the "manager" of icecairo, who quickly adds that his title is by default, as there is no hierarchy in the 'ice' vision.
Ice-hubs, as they are known, provide open, shared workspaces as well as opportunities for training for individuals with innovative ideas, with the aim of developing local solutions in order to address global problems.
"Anyone who wants to learn how to build or plant something that is sustainable and ecofriendly can come here and build their network until they have the right equipment, materials, prototype or product in their hand," he says. "Workshops, information, personnel … everything can be provided to anybody, from the curious roof gardener to the business minded, greentech entrepreneur."
As a concept, 'ice' is intended to represent and connect anybody and everybody interested in the cause: local communities, individuals, international networks, new business investors, etc. It is intended to unify creative thinkers from different backgrounds and locations towards common goals.
Despite Monday evening being only a soft launch, the network building process had already begun, and the 'ice' vision appeared to be taking root very quickly.
The walls of icecairo's downtown hub — a stunning five room apartment with wooden floors and balconies — were already covered with workshop and training schedules, pieces of paper explaining how to build homegrown lights and maps showing where all the other environmentally active organizations in and around Cairo are.
Attendees were also instantly networking, sharing ideas and scribbling suggestions all over the walls and setting up their own workshops. In terms of facilities, so far only a few computers, Internet, video projectors and working materials were already available.
"Ice is not about competing with other environmentalists, NGOs and companies, but rather about connecting them all together," says Molyneux-Berry, who is also a member of various environmental NGOs and initiatives around Egypt himself.
The group, which is currently funded by GIZ — a German acronym for the German Society for International Cooperation — will also soon be home to some of the most state-of-the-art technology in the world, such as 3D printers and laser cutters. These technologies are intended to facilitate the eco-friendly, entrepreneurial spirit by allowing innovative environmentalist groups to create prototypes of their products that can be presented to investors and companies, hence developing a market.
But the 'ice' vision is not one of fantasy. Already this summer — before an official hub had been created — three Egyptians with innovative solutions were provided with the means to create their prototypes through a global ice-hub competition, called the Zero Awards.
The Zero Awards are innovative, "out-of-the-box" thinking, green technology competitions with three categories: architecture, interior design and urban planning. Winners receive international recognition, a trip to Germany and the materials and consultation required to develop a professional prototype of their ideas.
This means that Mohamed Ahmed Gad and Ahmed Bahgat, the Egyptian 2012 winners in the Interior Design category, are already on their way to developing "green optimized air-conditioning," which involves a design that reduces the power consumption of airconditions by using the condensed liquid produced inside the AC to pre-cool the hot incoming air. Funding was provided by the German Ministry of Economic Cooperation and Development (BMZ).
When asked why the Germans are so keen on helping Egypt develop these innovations, Molyneux-Berry explains how the Germans are already way ahead of the game in the green technology department, and see the development of global ice-hubs as thinking and investing in the long term.
However, he also explains that the investments are just to get started, and that icecairo is intended to be nationally self-sufficient within the next year or two as networks are developed further and the seeds of a green technology market are planted.
Also, on a much larger scale, in addition to the downtown apartment ice-hub, a mega-hub is currently under construction in the Fagnoon Oasis in Heliopolis. The vision is the same as the download location, however just on a much larger, more self-sufficient scale. "We want people to be able to walk into the hub with a tiny idea and walkout with an innovative prototype," says Molyneux-Berry. However, it is expected to not be finished until February, and delays are anticipated.
For now, icecairo is planning to fully launch in December from the downtown location. Near future plans involve joint ventures with other organizations.
This month a 'Business Canvas Road Show' presented by icecairo, Innoventures and VC4Africa will take place from 11 to 18 of November which is essentially a road show around Egypt — visiting Alex, Menya, Aswan and Cairo — to discover young entrepreneurs. Also, later the end of this month, icecairo together with Takween, an urban development company, will be hosting an "ecocities" camp that is intended to operate as an urban planning meeting that is non-exclusive to academics, planners and government officials.