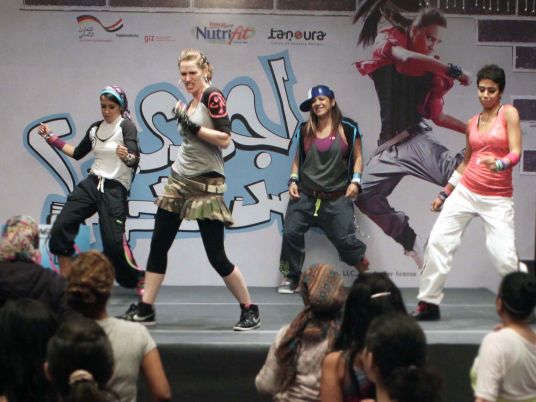 Cairo's most well-known Zumba instructors have teamed up with WenDo Self Defense, HarassMap and Nazra for Feminist Studies to empower women against sexual harassment and violence in Egypt in a campaign under the name Igmadi Did al-Taharosh, Arabic for "take a stand against sexual harassment."
More than 400 women, from different walks of life, poured into the campaign's second event at Heliopolis' Triumph Hotel to educate themselves on violence prevention techniques.
Sexual violence is often cited as a major threat to the livelihood of women in Egypt. The country was ranked the worst in the Arab world for women, according to a
Thomson Reuters
poll of 336 gender experts.
"When it comes to dealing with those situations, we need to be confident and strong both mentally and physically. It's important for women to exercise and find fitness programs such as Zumba Fitness in order to stay fit and happy, and to gain body awareness and confidence for protecting themselves," said Emeline Lavender, one of the founders of the campaign and a Zumba instructor.
As for Schirin Salem, the other mastermind behind the campaign and Wendo instructor, she argues prevention is an effective and crucial weapon against harassment.
"There is always this situation when you are about to get harassed, but some don't know the immediate actions you should take," Schirin said. "We want women to know that there are more options than being quiet or passive when it comes to harassment. So, the attendees are taught that they can use their body, voice, certain words or a confident look just to prevent the occurrence of sexual assault."
The event kicked off with Zumba, a dance-fitness program taught by licensed instructors, followed by WenDo, a system of self-defense and self-assertion for women, which comprises body language and other verbal and physical techniques that are easy to adapt to everyday life.
The event also tackles the psychological ramifications of sexual harassment with an in-depth perspective, as well as how to help survivors heal.
During the event, a role-play was enacted by the Nazra team, demonstrating a situation of a friend or family member who is trying to support a sexual assault survivor.
The interactive role-play conveys a real image of the situation to participants, along with the dos and don'ts for an appropriate psychological support to survivors of different forms of sexual violence.
"Some people are confused when a survivor reach out to them, whether they drill her with questions or just give her space. They can either give her the impression that she was the reason behind what happened or try to assure that she is safe and what had just occurred was out of her hands," said Amal al-Mohandes, director of Women Human Rights Defenders Program, Nazra for Feminist Studies.
HarassMap team also shared with the participants positive ways to stand up to sexual harassment and to inspire others not to stay silent. "One of the reasons why sexual harassment has become epidemic in Egypt is society's silence on the issue," said Eba'a al-Tamami, HarassMap's Marketing and Communications Unit head.
The decades-long social stigma around sexual assault and rape has always been an obstacle in the way of making women's voice heard in Egypt's conservative society.
However, the taboo recently began to be widely addressed after the mounting rate of sexual assault including collective incidents.
In an attempt to support the cause in another beneficial way, the proceeds of this event went to both HarassMap and Nazra for Feminist Studies to help sexual assault survivors.
Igmadi Did al-Taharosh launched its first event in May 2013. After experiencing consecutive success, the third event has been planned to be held in December at Semiramis Intercontinental Cairo Hotel.