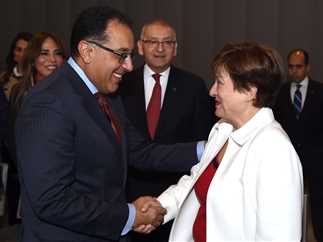 The IMF loan will not radically solve the economic crisis in Egypt, Hisham Badawy, an economist, stressed, adding that rationalizing consumption is not a solution to confronting the high prices.
The solution ultimately lies in the search for additional income and the search for additional resources.
Badawy added, in an interview on the "Cairo Talk" program, with journalist Ibrahim Issa, on Al-Qahirah Wal-Nas channel, on Wednesday evening, that the Egyptian government must go for intensive production to get out of its economic crisis, pointing out that Egypt will be at the gate of an economic storm if the crisis continues.
He continued, "the UK 's exit from the European Union revealed major economic difficulties, and some expect that the price of the pound sterling may fall below the dollar."
He added that the UK's productive power is declining, and its ability to attract capital has decreased compared to European countries such as Spain.
Egypt has reached an agreement with the International Monetary Fund (IMF) about a new program that will be announced very soon, said Finance Minister Mohamed Maait Sunday.
Speaking on the fringe of the annual IMF meetings in Washington, Maait said that the Finance Ministry is still acting to repair the financial landscape in Egypt with the aim to maintain the economic gains.
Maait had "very fruitful" talks with IMF experts during his visit to Washington. He posted them on efforts exerted by Egypt in the past year that translated into an initial surplus of 1.3 percent of the Gross Domestic Product (GDP) and a growth rate of 6.6 percent.
There was also a 19-percent increase in annual tax revenues, and a drop in budget deficit from 13 percent in 2012-2013 to 6.1 percent in the last fiscal year, the minister told the IMF experts.
Maait said his Ministry is eyeing a 6-percent budget deficit this fiscal year and 4 percent by 2026-2027.
Work is also underway to enhance the efficiency of public spending and guarantee optimal use of state resources, he said.
Egypt has obtained loans from the International Monetary Fund, amounting to about $20 billion since 2016, as part of the implementation of the economic and social reform program.
It also obtained quick financing to face the repercussions of coronavirus pandemic, and has already started paying the first loan installments.