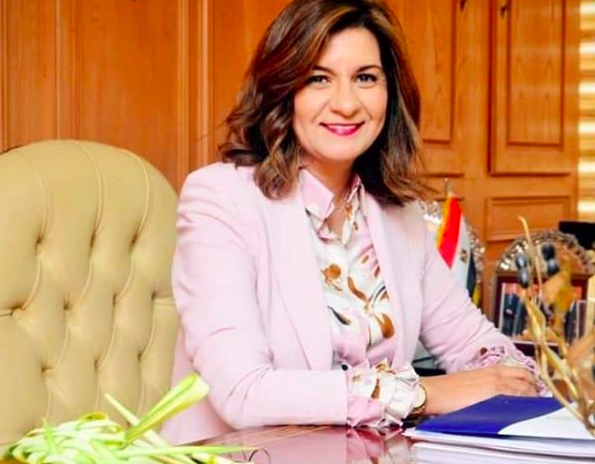 Immigration Minister Nabila Makram met with Vienna's youngest Egyptian opera singer in Austria, Egypt's Maryam Tahoun, 16, to celebrate her success and discuss her participation in and promotion of the "Etkallem Araby" (Speak Arabic) presidential initiative.
Makram welcomed the girl and her father, Islam Tahoun, and expressed her pride in her achievement, making it an example to follow and adding a new balance to the Egyptian excellence in the artistic field and to Egypt's soft forces that consolidate its global position.
Makram also invited Tahoun to participate in the "Etkallem Araby" presidential initiative, as she is one of the second and third generations of Egyptians immigrants abroad. She praised her as an ideal model for promoting the initiative as an Egyptian who was born and raised abroad and did not give up speaking in her mother tongue.
She stressed that the initiative aims to confront the loss of identity many expatriate children face, and to consolidate the spirit of patriotism in the hearts of Egypt's children residing abroad.
Tahoun expressed her great happiness at the minister's keenness to meet her, stressing that Egypt enjoys a high artistic standing in the world, and that the Egyptian political leadership represented by President Abdel Fattah al-Sisi spares no effort in nurturing Egyptian talent in Egypt and abroad.
Tahoun also welcomed participation in the  initiative, saying: "I am proud of my Egyptianness and my national language, which I am keen to speak all the time, even though I was born and raised in Austria," agreeing to provide any support for the initiative.
Tahoun talked about her upbringing and her journey playing music and singing opera. She was born in Vienna and began learning the guitar at three years old. 
She then learned to play the piano, which was a major turning point in her life, as her teacher convinced her that she had a good voice and that she should join the school choir.
When Tahoun reached the age of eleven, she joined the Austrian opera tests and succeeded in all with distinction, becoming the first Egyptian and the youngest member of the Austrian Opera. She has also won several prizes in international competitions, the latest of which was at the International Moscow Music Online Competition in February.
Edited translation from Al-Masry Al-Youm