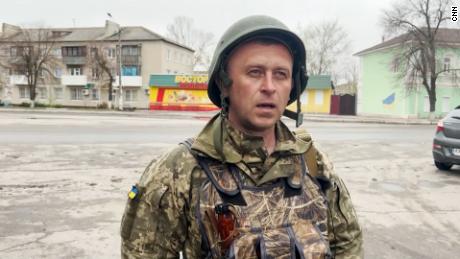 At 10:30 a.m. local time last Friday, as many as 4,000 people in and around the train station in Kramatorsk were waiting to be evacuated when a missile exploded overhead, raining down chunks of metal. Shrapnel ripped through the crowd, which was largely composed of women, children and the elderly. The latest death toll is more than 50, with more than 100 injured.
When we visited the station 48 hours after the blast, we found the concourse still stained with blood, littered with the scattered possessions of the dead and wounded.
On one platform, we found a large pool of congealed blood in a shrapnel impact point with several false teeth nearby. Someone, probably an elderly person, must have been hit and killed there.
City officials believe Kramatorsk could be surrounded, besieged and pulverized by Russian forces if and when the much-anticipated offensive in the east gathers pace.
The mayor had been urging residents to leave, and prior to last Friday's strike around 8,000 people a day were boarding westbound trains. The evacuation effort had been publicly announced, with people from surrounding towns and villages urged to gather at the railway station in Kramatorsk, which was the major regional hub. There was nothing secret about it.
Russia has denied targeting the station, claiming the missile — a Tochka-U — is no longer used by Russian forces, and alleging that it was a Ukrainian missile that hit the station. Military analysts dismiss the claim.
Part of the missile crashed into a small park in front of the station. Someone, somewhere wrote on it in Russian "for the children."
While tagging and writing slogans on missiles, bombs and shells is a very old tradition, it is not for certain what the intended message was.