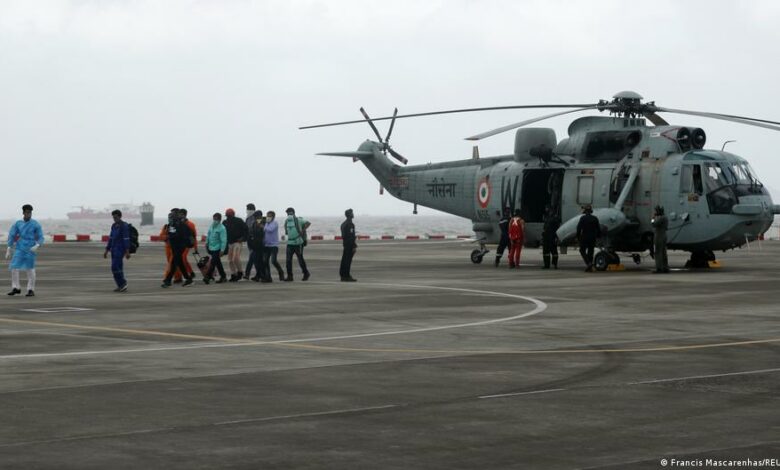 The Indian Navy scoured waters through the night to recover bodies of 37 people who were on board a barge that sank off Mumbai as a cyclone ravaged the country's west coast.
Some 38 people remain missing.
"Search and rescue (SAR) operations off Mumbai and Gujarat entered their third day today. Indian Naval ships and aircraft are presently undertaking SAR of the missing crew members of accommodation barge P-305, which sank on May 17, 35 miles off Mumbai," a navy spokesperson said in a statement.
The barge was deployed on contract by state-run energy explorer Oil and Natural Gas Corporation (ONGC) to carry people engaged for offshore drilling.
It had 261 people on board when it sank after the cyclone barreled into the Bombay High oilfield near Mumbai.
Cyclone Tauktae which hit the western states of Gujarat and Maharashtra on Monday is the strongest storm the region has seen in decades and has killed at least 62 more people in the past two days.
New storm brewing
Prime Minister Narendra Modi on Wednesday conducted an aerial survey of the damage, promising government aid.
Meanwhile, a major new storm was building off India's east coast in the Bay of Bengal, weather forecasters warned on Thursday.
The system was "very likely" to intensify gradually into a cyclone, which is projected to hit the coasts of the states of West Bengal and Odisha around May 26.
The damage from Cyclone Tauktae has added further pressure on a country that is battling a deadly second wave of the coronavirus amid a shortage of beds and oxygen in medical facilities.