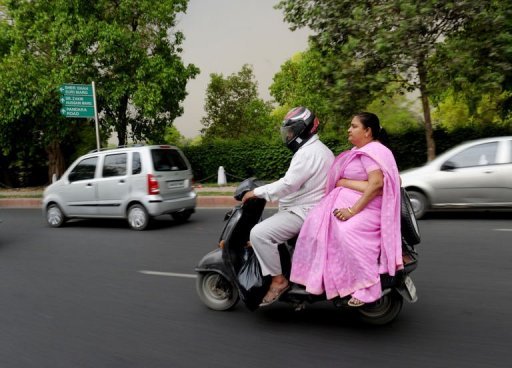 India pledged to spend US$5.2 billion dollars to double the income of struggling farmers and also boost a rural employment scheme as it unveiled its annual budget on Monday under pressure to balance much-needed spending with fiscal prudence.
India is now the world's fastest-growing major economy, but years of drought and a failure to create jobs for a burgeoning young population has left millions of rural Indians struggling and led to deadly protests in recent weeks.
Finance Minister Arun Jaitley said India's estimated 120 million farmers were the "backbone of the country's food security" as he pledged to spend 359 billion rupees ($5.2 billion) on the country's vast agriculture sector.
"We need… to give back to our farmers a sense of income security," Jaitley told parliament as he presented the budget in parliament.
The initiative would increase the income of farmers over the next five years through a series of measures including boosting a crop insurance scheme, increasing access to markets and a massive injection of funding to village councils.
"For rural development as a whole I have allocated 877.6 billion rupees ($12.7 billion) in this budget," he added.
That includes a major hike in spending on a rural employment scheme introduced under the last government and a pledge to ensure all the country's villages have electricity within two years.
Jaitley said the government would increase spending on the National Rural Employment Guarantee Scheme, which guarantees 100 days of employment on public works each year for any household that requests it.
Stalled reforms
The ruling Bharatiya Janata Party (BJP) faces crucial state elections this year and next, when the plight of farmers suffering from falling crop prices and several years of drought will play a major role.
It needs to perform well in those elections in order to push stalled economic reforms through the national parliament, where it lacks a majority.
Prime Minister Narendra Modi has made it a priority to boost India's economic growth, but investors have raised concerns about the pace of change and his right-wing government's third budget has been described as "make or break".
Economists had predicted the government would relax its commitment to rigorous fiscal discipline in order to boost spending.
But Jaitley said it would stick to its ambitious target to cut the fiscal deficit to 3.5 percent of GDP in 2016-2017.
"I have weighed the policy options and decided that prudence lies in adhering to fiscal deficit targets," he said.
India is seen as a relative bright spot in the world economy, after a slowdown in China, collapsing commodity prices and recession in other big emerging markets sent stock indexes tumbling.
But feeble global demand has caused its exports to shrink for 14 months in a row and private investment remains weak.
Pay hikes
The finance ministry had promised the 2016-17 budget would be "growth-oriented" in the face of a global climate that appears significantly more challenging than last year.
On Friday the annual pre-budget Economic Survey said gross domestic product (GDP) would expand between 7.0 percent and 7.75 percent in the next financial year, marking little change from this year's levels.
"If the world slows down we will slow down as well," the government's chief economic adviser, Arvind Subramanian, told a news conference.
Investors are looking for concrete initiatives to make it easier to do business and are also expecting an announcement on how to break the impasse over Modi's flagship Goods and Services Tax (GST) which has stalled in an intensely polarised parliament.
"This year's budget… presents the [government] a chance to reset the narrative," columnist Anil Padmanabhan wrote in the Mint newspaper Monday.
Despite a major push to boost manufacturing, farming remains by far the biggest employer in India and the sector is struggling after two years of weak monsoon rains.
This month the Jats, traditionally a farming caste, sparked riots in northern India to press their demands for better access to government jobs and education. They say they are struggling to make a living in farming.
The BJP performed poorly in elections in the impoverished eastern state of Bihar last year and faces polls in other major farming states West Bengal and Uttar Pradesh, due this year and next.