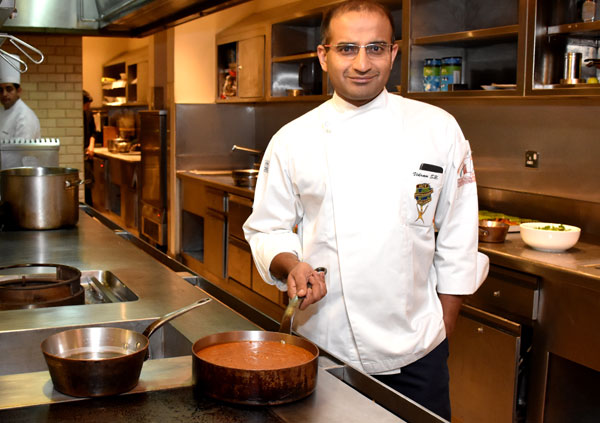 Egyptians know their food, that much can be said with absolute certainty. While Egyptians enjoy their traditional delicious cuisine they also tend to be open to exploring food from different cultures.
Indian food has gained a popularity in Egypt over the years with different restaurants specializing in Indian food opening all over Egypt. So, as part of the 'India on the Nile Festival', which is currently taking place in Egypt, an 'Indian Food Fiesta' event will take place at the Semiramis Intercontinental Cairo, from March 10-16.
The fiesta will offer the audience a tour into the world of delicious (and generally spicy) Indian food, and will be curated by celebrated Indian chef Vikram Udaygiri.
"I'm very excited about the Indian Food Fiesta," says Sanjoy Roy, director of the India on the Nile festival. "During our visit here we have tried Egyptian food and it's been great. So I think Egyptians are going to enjoy Indian food as well."
The Indian cuisine reflects the country's rich 5,000-year-old history. With its diverse flavors and unique mixtures, the Indian cuisine has set itself apart from other cuisines.
India by the Nile is an annual festival held by the Embassy of India in Cairo, in partnership with Teamworks Arts and the Indian Council for Cultural Relations (ICCR).
Other main events in the festival include the cinema festival, which celebrates Indian movies, and an Indian fashion show, which is taking place for the first time in Egypt. The festival also brings a classical music performance by Amjad Ali Khan, one of India's most celebrated musicians, in addition to a series of seminars that aim to educate Egyptians about Indian culture.
"I think the festival is extremely important as it reflects the growing and ongoing ties between Egypt and India. Every year we are keen to improve it by adding new elements to it and trying to display it to a wider audience," Roy said.
So, fellow Egyptians, get ready to try one of the world's most phenomenal cuisines!