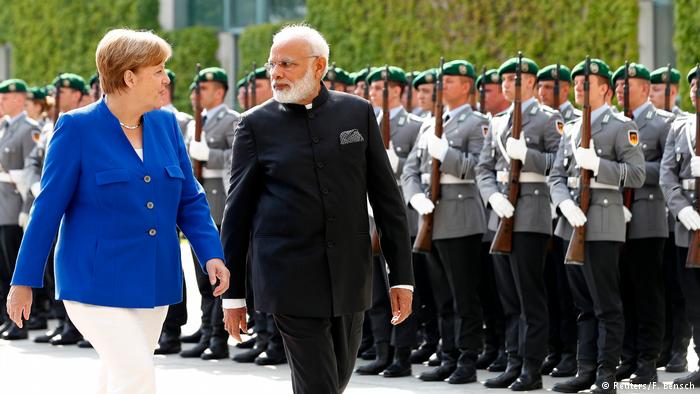 At a press conference, the leaders of Germany and India have said that the countries' relationship is of "international significance." But ongoing talks are emphasizing how best to beef up business ties.
German Chancellor Angela Merkel again emphasized the need for Europe to take a more proactive role in international politics.
She made her remarks during a press conference with Indian Prime Minister Narendra Modi in Berlin on Tuesday, two days after her controversial statement questioning the future of the transatlantic alliance.
Merkel and Modi met as part of the fourth edition of the two countries' biennial Intergovernmental Consultations (IGC) on trade, investment and strategic relations.
Ahead of the meetings,  the two leaders attended a press conference where they signed agreements covering everything from cybercrime to railway safety to an annual one billion euros ($1.1 billion) in German development aid for India, particularly in the area of sustainable urban development.
Afterwards, Merkel and Modi, both of whom seemed very relaxed as they chatted with one another during the signing ceremonies, offered their thoughts on German-Indian relations.
Merkel said that the two countries had discussed a range of topics from development to terrorism. "We've intensified our bilateral relationships in a variety of areas," Merkel said, "but I also talked with the prime minister yesterday evening about shaping the global order."
"We talked in great detail about all of the topics on a ministerial level," Modi, who arrived in Berlin on Monday evening, added. "The partnership is advantageous to both countries, but I think our relationship also has great significance internationally."
India and Germany 'Made for One Another'
Modi hopes that Germany can help take India to the next economic level
According to differing estimates, Germany did between 17 and almost 20 billion euros in trade with India in 2016, with Germany enjoying a 0.3 percent trade surplus. Germany is India's biggest trading partner within the EU.
With more than 1.3 billion inhabitants, India is the second most populous nation in the world, and its economy is projected to grow by 7.4 percent this year, making the business opportunities there enormous. Both sides would like to see closer German-Indian cooperation.
In particular, Modi wants to increase the proportion of industrial production in the Indian GDP to 25 percent by 2025. German companies currently invest between 9 and nearly 13 billion euros in India, but the Indian prime minister would like to see far more German money coming to his country.
"We've made a quantum leap here economically," Modi said. "German industry plays a very important role in India's development. Investments from Germany are being supported. In the future we'll be concentrating on middle-class investments."
Modi said that India wanted to work together with German industry to develop the country's infrastructure, and he specifically highlighted the importance of the "smart cities" program.
"We'd like to be seen as a positive partner, and we're always willing to work together with you," Modi said. "We're practically made for one another."
The two government delegations will spend Tuesday in Berlin's Hotel Adlon holding closed-door talks about further economic cooperation.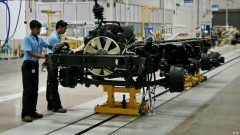 Mercedes-Benz India has been operating since 1994, (Eröffnung Daimler Werk / AP)
The World's Largest Chamber of Commerce
It's no surprise that Modi would shower his German hosts with compliments on a trip like this. But experts say the idea that Germany and India are well suited to one another is more than flattery.
Günter Wiskot, the head of Black Forest Consultants, has 40 years of experience with India. He says that Germany, which has a shortage of skilled workers, stands to profit from Indian specialists.
"India is a country that has a very good educational system where IT experts or engineers are concerned," Wiskot told Germany.
And the possibilities for greater cooperation go in the other direction as well. The German-Indian Chamber of Commerce is the largest such body in the world, Wiskot points out, with some 6,000 German companies as members. And around 1,800 medium-sized German companies are have productions in India.
"India is a country that people can't ignore to afford," Wiskot says. "However, it is a bit more cumbersome to get a return on your investment. In China, you can turn a profit more quickly. In India, you have to think more in the long term."
An Alternative to the United States?
Germany could use skilled workers from India's educational system. With Merkel and other politicians distancing themselves from the Donald Trump-led United States, there has been speculation that India could be part of a German strategy to reorient itself away from America.
Wiskot thinks that expectations shouldn't run that high. "India is not as economically strong as the US, that's obvious," Wiskot says. "But it does have the strongest rates of growth among the emerging economies. The economic mood is very good right now in the country. And I'm confident that growth will continue for a while."
Stability is another advantage India enjoys. "The country has a very good domestic market," Wiskot told DW. "It's not as dependent on exports as China, for example. And German products there have an incredible strong image."
So even if India can't replace the US, it does offer economic opportunities for Germany, should the political climate with America grow even frostier and begin hurting trade relations