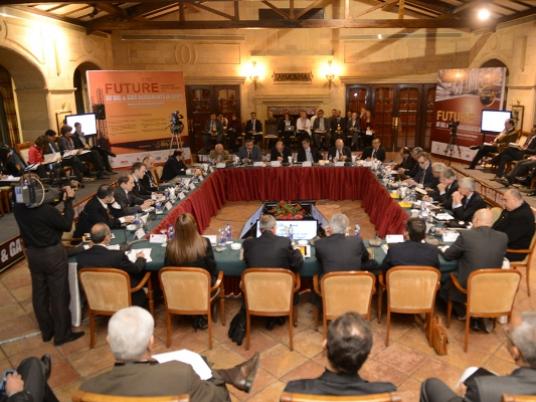 International oil and gas companies see great potential in Egypt, but say they are frustrated with the current state of concession agreements, which in some cases provide "perverse incentives" and discourage investment, among other challenges, industry leaders said in a conference last week.
"As I sit in the dark at home because the lights have gone out, or in the queue for the petrol station, it certainly feels like there's an energy crisis, but I believe it can be a short-term crisis," said Brian Twaddle of Transglobe Energy, an oil and gas exploration company predominantly concentrated in Egypt.
"There are challenges in the field, challenges from the local population, challenges with institutions," said Jan Muhl of RWE Dea, a German oil and gas producer.
The round-table meeting of senior industry executives last Wednesday concluded with a call for an intensified and coordinated effort to lobby the government on concession agreements, and communicate the industry's agenda.
The division of the risks and rewards of the exploration and extraction of oil and natural gas is a matter of endless negotiation and, often, tension between every producing country and every company involved in the business.
Each wants to minimize its risks, and increase its rewards.
Countries like Egypt rely on the revenue such companies provide to subsidize their national budget, while successful companies stand to make tremendous profits.
Meetings such as last week's discussion on "the future of oil and gas agreements in Egypt," convened by industry newspaper Egypt Oil & Gas, are an opportunity for executives to communicate with each other, but also with the officials of the state-owned oil and gas companies that were present, and the media.
While varying views were expressed by those present, the discussion had three main themes.
First, companies are still committed to Egypt, and see great potential in its reserves.
Secondly, however, current agreements are often poorly implemented, from the companies' point of view. Approval for expenditure on, or the import of, expensive technology can be difficult to obtain, and the state-owned oil and gas companies are slow to meet their financial obligations to their international, private-sector partners.
As a result, the international companies are owed several billion dollars.
Twaddle of Transglobe said that as a result, his company had not yet — in any year — been able to spend its full allotted capital budget due to "red tape."
In some cases, the agreements are unclear and subject to different interpretations, a representative of Perenco said.
Thirdly, several participants questioned whether production sharing agreements were appropriate for what was termed "difficult" oil and gas, for which exploration and extraction at great depth and pressure, and consequently great cost and risk, would be necessary. BP and RWE Dea already hold a "tax and royalties" gas concession, a model that is generally seen to be relatively advantageous to companies, rather than the state.
Evaluating the merits of these claims is difficult due to the lack of transparency in the industry. Unlike in some countries, the terms of the agreements are not made public. Nor, when companies imply that they may take their operations to other countries offering better terms, is it always easy to see when there is a real danger of this happening.
"It's coming to be crunch time for investing in this country," said Patrick Allman of Dana Gas, but few others expressed such strong sentiments.
With a little over a week to go before the second anniversary of the 2011 uprising, the emboldened community and labor politics of the revolution found a dissonant echo inside the clubhouse of the Kattameya Heights Golf Club, where the conference was held.
"I've heard after the revolution people fighting for their rights … . And who pays the price? The oil companies. At the end of the day, we need to recover our costs," said Miguel Angel Vargas of Sipetrol, who complained about problems with labor and local communities, echoing comments by a handful of other delegates.
Oiling the wheels
While some executives worried vocally about whether anyone in government was listening, last year's round table did produce some positive developments for gas companies, said Samir Abdelmoaty, an Exploration and Agreements Consultant for BP, who cited the addition of a "decommissioning clause" to agreements, and an improved "period of development lease."
Executives concerned with oil did not report a similarly positive experience.
"We keep hearing rosy words, but where's the action?" asked one representative.
Meanwhile, in the past year, other executives said they had been reaching out to key figures in politics and government to press home the industry's message.
"Getting stuff across can take a while, because [President Mohamed] Morsy has surrounded himself with shadow ministers," Jeroen Regtien, Egypt vice president of Shell Upstream, said in an interview. "The [Freedom and Justice Party doesn't] trust the technocrats, because they think they're part of the old system.
"So Morsy has his presidential advisers, from the FJP — one for each ministry headed by a technocrat. So I always need to speak to two people, the minister and Morsy's adviser, on petroleum. I've been trying for ages to speak to both at the same time. Finally I got them both a in a room together."
"We met with all the political parties last year," he told the conference. "The takeaway was sobering. We were having to explain basics of the oil and gas industry."
Several contributors suggested a unified committee of producing companies to better communicate with the government in future. Subcommittees to work on particular projects were suggested.
Mohamed Fouad, president of Egypt Oil & Gas, concluded the meeting by announcing that they would be "building a committee as soon as possible."