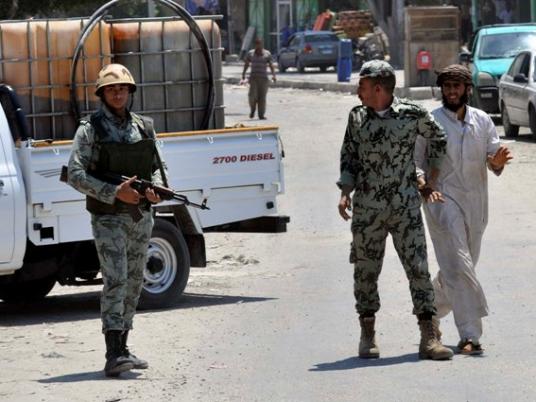 Mohamed Amin al-Mahdi, minister of interim justice and national reconciliation, commented on deposed President Mohamed Morsy's trial over prison break charges saying, "Keeping Morsy and the rest of the suspects inside a glass cage conforms to international laws."
Mahdi added that the Cabinet's decision to designate the Muslim Brotherhood as a terrorist group is not an administrative decision and is, thus, unchallengeable.
In an interview published Wednesday on the website of privately-owned TV news channel Al-Arabiya, Mahdi said there is strong evidence that there was coordination between the Muslim Brotherhood and organizations in other countries to destabilize the country. He added that the government will draft a list with the Brotherhood's crimes in order to take legal measures on an international level.
Mahdi condemned the murder of Major General Mohamed al-Saeed, head of the Interior Ministry's technical office, and described it as "intimidation of Egyptians." He also stressed the necessity to confront terrorism, saying "the battle is not easy and its responsibility should not be laid on a specific official. Everyone and all political forces should unite to face terrorism."
He said that he could not blame the accident on a specific faction but that the perpetrators would be found by the prosecution and judiciary's investigations.
In other news, Mahdi said he prefers a single-winner system in parliamentary elections, "as it conforms to the nature of Egyptian society" which fears the list-based system may be challenged for being unconstitutional.
"Within a month, all laws related to the parliamentary and presidential elections and the exercise of political rights will be amended," he said. He added that amending the roadmap and holding the presidential elections ahead of the parliamentary elections was a response to "the people's will and social dialogue."
He referred to the similarity between former President Gamal Abdel Nasser and Defense Minister Abdel Fattah al-Sisi regarding international challenges and the people's love for them.
"Reconciliation is not only political or with the Muslim Brotherhood. It means reconciliation among all categories of people and the resolving of social problems, especially those of marginalized people," he said.
Regarding the Cabinet's performance over the past period of time, Mahdi said, "The government does not have a 'magic stick' to solve problems. We are all in the same boat."
"No international agreements are permanent, including the peace treaty between Egypt and Israel, if amending it was in the favor of Egyptian people," he said, referring to amendment mechanisms including negotiations over the amending of the treaty with Israel and the United States.
Edited translation from Al-Masry Al-Youm