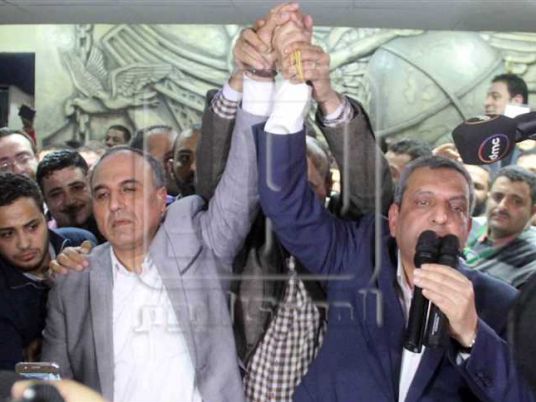 The invitation of Abdel Mohsen Salama, the Chairman of the Journalists' Syndicate, to Interior Minister Magdy Abdel Ghaffar to visit the headquarters of the syndicate caused anger among members of the syndicate's board and young journalists.
Mohsen said that the minister's visit would come in the framework of improving relations with state institutions.
Mohsen explained that his latest meeting with Abdel Gaffar aimed to communicate to the Interior Ministry the views and concerns of the syndicate, in order to help provide a safe environment for the work of journalists — which is ultimately the minister's responsibility.
Board member Gamal Abdel Rahim said that the invitation "is unfortunate and can not be tolerated"; adding that he would call, along with other board members, for an emergency meeting within hours, to discuss Mohsen's invitation to Abdel Ghaffar to visit the syndicate.
Meanwhile, MP and member of the Journalists Syndicate Osama Sharshar welcomed the invitation, describing its rejection as a mere pretense of fake heroism. MP and syndicate member Ahmed al-Tantawy agreed, saying that the break-up between the syndicate and the state institutions is not desirable.
"The minister should realize that his entry to the syndicate would be a source of pride for him," Tantawy added, pointing out that it is inappropriate for the minister to make a frank apology to journalists for past events.
In an apparently unprecedented move, a group of armed security officers entered the syndicate headquarters in May 2016 and arrested Amr Badr, editor-in-chief of yanair.net, and a journalist working for the same news website named Mahmoud al-Sakka. The arrest sparked an uproar among syndicate members, who claimed that the police had broken the law in entering the building without prior permission.
The two were arrested on a warrant from the General Prosecution on suspicion of inciting anti-government protests.
The arrests came as a part of a broader police crackdown on journalists since April 25, when mass anti-government protests had been planned in response to the administrative transfer of two Red Sea islands from Egyptian control to that of Saudi Arabia.
Former Syndicate head Qallash at the time demanded the resignation of Interior Minister Magdy Abdel Ghaffar and called a General Assembly to decide on further action against the ministry.
However, none of the demands were met by the government.
After a short time, Qallash, former Syndicate Secretary General Gamal Abdel Rehim and chief of the syndicate's freedoms committee, Khaled al-Balshy, were arrested on charges of harboring two colleagues (Badr and Sakka) inside the syndicate's headquarters and circulating false news.
In March 2016, Qasr El-Nil Misdemeanors Court sentenced Qallash and the two former syndicate members to a suspended one-year prison term.
Edited translation from Al-Masry Al-Youm