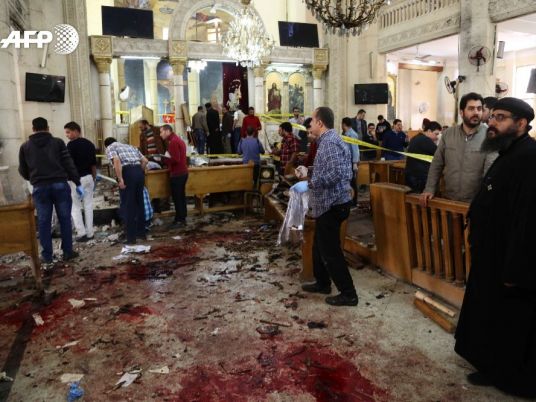 The Interior Ministry released a statement on Wednesday indentifying the suicide bomber who targeted St. Mark's Coptic Cathedral in Alexandria as Mahmoud Hassan Mubarak.
The ministry carried out intensive investigations in the aftermath of the attacks, including examining the CCTV footage from the cathedral gates and DNA evidence found from the remains of the person who appeared in the footage.
"The suicide bomber who detonated himself in front of the Alexandria church was Mahmoud Hassan Mubarak. He was born in 1986 and was a resident in al-Salam suburb in Suez governorate. He worked for a petroleum company and previously had a warrant out for his arrest in 2016," the statement read.
According to the statement, Hassan Mubarak detonated his explosive vest in front of the cathedral where Pope Tawadros II was giving a sermon for Palm Sunday.
Hassan Mubarak was affiliated to a terrorist group led by a fugitive named Amr Saad who formed Islamic State-affiliated cells to target state institutions and churches.
One of these cells has been proven to be related to the deadly attack on Cairo's main Coptic church in December 2016 when a suicide bomber blew himself up inside Abbassiya Cathedral, killing 29 people, according to the statement.
The Interior Ministry did not verify the authenticity of the name Abu al-Baraa al-Masry that IS cited in a statement claiming responsibility for the Palm Sunday attacks in Alexandria. The terrorist group also cited Abu Ishaq al-Masry as being the suicide bomber who carried out the attack on Mar Guirgis church in Tanta.
In a press report released in 2014 by the privately-run online news media outlet Mobtada, Abu al-Baraa al-Masry was mentioned as a Suez-based extremist who, prior to being arrested, had formed a cell for smuggling Egyptians to Syria to join rebel fighters against the Syrian government.
The report said Abu al-Baraa al-Masry led this group which supported former Islamist presidential candidate Hazem Salah Abu Ismail in Suez. He also joined a pro-Muslim Brotherhood sit-in to demand that policemen be allowed to have beards.
The Interior Ministry's statement noted that a different cell affiliated to Amr Saad's group was responsible for an attack on a police checkpoint in el-Naqab in the New Valley governorate near Upper Egypt.
"Recently, police forces raided a militant group, affiliated to Amr Saad's terrorist cell, in the Upper Egypt governorate of Assiut. They managed to kill seven of its leading figures," the statement added
Meanwhil , the Interior Ministry has offered a reward to anyone who can provide information which leads to the arrest of those listed as fugitive members of Amr Saad's terrorist cell. The government also pledged to find the perpetrator of the Tanta attack.