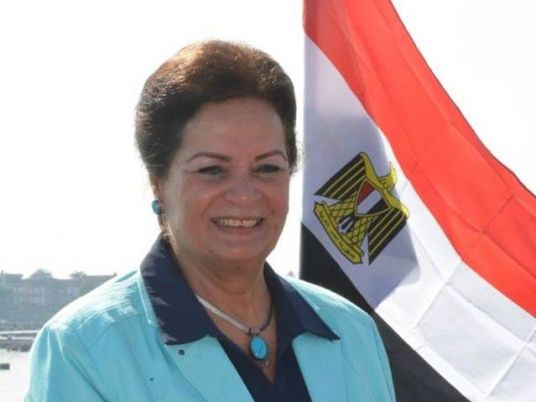 Engineer Nadia Abdo, the governor of Beheira, said her selection for the post of governor is, in some ways, an experiment for appointing more women in leadership positions, which means there is no room for failure. Everyone's eyes are on her and the media is following this experiment.
In an interview with Al-Masry Al-Youm, the governor said she is surprised by the opposition of some Salafis to her taking office. Their statements and fatwas issued by non-specialists are irresponsible and contrary to the opinion of the Grand Mufti, she noted.
To those who are opposed to her membership in the dissolved National Democratic Party (NDP) was not a choice, she explained that civil servants were required to join in case they were appointed to public office. She stressed her support for decentralization, but within limits.
■ Why do you think it is important that you were chosen for this post?
I hope this experiment — women in leadership positions — is destined to become a model for the future. There is no choice but to succeed, as my failure would mean the experiment failed. Now I am an official, I love the challenge.
■ Do you have a vision for more women in leadership positions?
Yes, there are many qualified women in the governorate, and I hope my office produces other leaders.
■ "Empowering women" has always been used as a slogan, when we see it in reality?
Beheira governorate is generally proactive in empowering women, and several women have been promoted to leadership positions, such as heads of directorates, directors of administrations, and heads of a local units. The only criterion for choosing someone is their efficiency, hard work and dedication — that is the standard upon which a woman can be promoted.
■ Is "youth empowerment" just another slogan that is still far from reality?
I recently issued some decisions to appoint diligent and competent young people as assistants to the governor. They provide services to help solving citizen's problems. Futhermore, I asked President Abdel Fattah al-Sisi to appoint deputies for governors, which could be an opportunity to empower young people and women.
■ Some Salafis opposed your appointment as governor and said Islam denies this. What do you think?
I manage my house efficiently and cook for my children myself. I am amazed by these statements and fatwas issued by non-specialists; it is irresponsible. They should not issue any fatwas against that of Grand Mufti Shawki Allam, who visited me and congratulated me on taking the position. He said that all religious institutions in Egypt have blessed and appreciate this historic step. He pointed out that Egyptian history is abound with honorable female role models, and that women taking senior positions is the culmination of their efforts, expertise and efficiency.
This sends messages that women are able to work in all fields and having a woman in the post of governor provides a civilized image of Egypt; women represent half of the society and therefore affects the other half.
■ There were objections to your appointment by some parties because you're a former member of the NDP, and were an MP for this party in the 2010 parliament.
Attacks and criticism can be contained and are normal, but, in the end, it is my experience that decides my eligibility for the job. I have worked in the governorate for three years, and had the support of many of opponents. A respected, diligent women commands respect.
Regarding my membership in the NDP, this was not a choice; civil servants were required to join in case they were appointed to public office. It was normal for that political stage at the time, and I did not profit nor obtain any advantages from my membership.
■ How will you handle problems at Damanhour hospital, which requires your personal intervention?
We will immediately address the health minister in order for him to intervene in the manufacturing processes so as to resolve the problem of supplying medicines.
■ What about the hospital's accumulation of LE9 million in debt to pharmaceutical companies?
We'll address the minister to provide support for the hospital in repaying its debt to the pharmaceutical companies. It is a large hospital which serves the citizens of the governorate and some nearby governorates, and must be supported.
■ People in Rashid have complained of contaminated drinking water. What will you do about this?
We have addressed the health directorate to monitor the water, as well as the water company. The amount of ammonia found in the Nile has decreased, and thus will reduce chlorine ratio; we will solve the problem by increasing the chlorine ratio, even though it's a financial burden to the water company, but we are trying to reduce the amount of ammonia to standards set by the Health Ministry. The problem will end soon. We are currently planning to establish a new water purification station that will contribute to solving the problem of poor water quality.
■ How is progress in clearing Lake Edco?
We started clearing the lake three years ago, with the Arab Contractors Company, and we have cleared 120 acres. This represented a breakthrough for fishermen, as great depths of the lake were cleared.
■ What should be done to counter administrative corruption in the governorate?
I think administrative corruption also includes neglect and lack of discipline, and matches financial corruption. For example, perhaps someone who is financially uncorrupt, but disrupts people's interests, keeps documentation tucked into a drawer for certain reasons. So we have to face neglect too; I instructed the heads of the centers to work on administrative discipline in their offices.
■ Do you have a message for the people of Beheira governorate?
Rest assured, 2017 will see the completion and the start of mega-projects that will cause a quantum leap in the county's development, as these projects will cost billions of pounds. This year will be good for the people of Beheira.
Natural gas companies will start pumping in Lake Edco this year through the national network, which provides hard currency and 25 percent of Egypt's natural gas requirements. This school year Rashid University will open and work will start on constructing the Canadian University in Rashid. There will also be construction work in the industrial area in order to manufacture medicines and chemicals used in the pharmaceutical industry.
Finally, we have all the facilities for serious investors across the governorate's territory — it is one of the largest and most promising places for investment owing to its geographical position, nature, and agricultural and coastal roads.