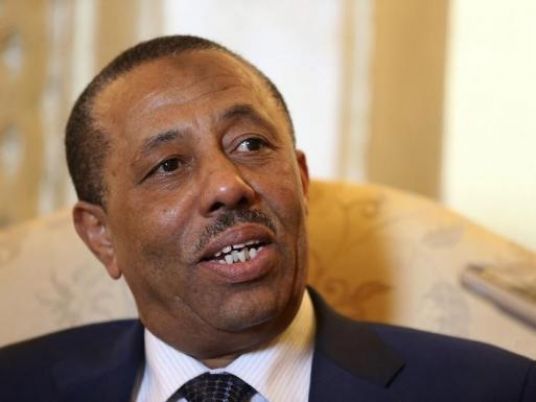 Libya's internationally recognised prime minister called for the West to launch air strikes to defeat Islamist militants who control Tripoli and have driven his government out of the capital.
Speaking hours before Egypt bombed Islamic State targets in Libya in retaliation after militants said they had beheaded 21 Egyptian Christians, Prime Minister Abdullah al-Thinni made a plea for Western military intervention in a country rapidly slipping into chaos.
"We have absolutely confirmed information that al Qaeda and IS are in Tripoli and….near Ben Jawad," he said, referring to a central town controlled by a faction that supports a rival government.
"I ask world powers stand by Libya and launch military strikes against these groups," he said. "This threat will move to European countries, especially Italy."
Thinni, the internationally recognised premier, has been based in the east of the country since an armed group called Libya Dawn seized the capital in August. Libyan Dawn includes Islamists but denies that it has links to al Qaeda or to fighters that have sworn allegiance to Islamic State.
The North African country is in chaos as two rival governments and parliaments allied to separate armed factions fight for territory, four years after NATO war planes helped topple dictator Muammar Gaddafi.
Egypt's military, joined by jets from Libya's own air forces, bombed Islamic State targets inside Libya on Monday, a day after fighters proclaiming allegiance to the group released a video showing what they described as the beheading of 21 Egyptians captured in Libya.
A Libyan air force commander said 40-50 militants were killed in the Libyan-Egyptian strikes.
Egypt is worried about the rise of Islamic State, especially in areas near its border. It called on Monday for the U.S.-led coalition that has been bombing Islamic State in Syria and Iraq to confront the group in Libya as well.
With Libya divided by two governments, the United Nations has been mediating to avert full-blown civil war. But little progress has been made in talks as the country is dominated by former rebels who helped oust Gaddafi but now fight each other.
"Dialogue is the only way to save Libya," Thinni said in an interview at his government headquarters in Bayda, a town some 1,200 km to the east of Tripoli.
He insisted that talks need to be based on the assumption that one of two rival parliaments, the House of Representatives elected in June and also based in the east, is the legitimate assembly.
The U.N. has sought to widen its dialogue by including the previous parliament, known as General National Congress (GNC), which was reinstated in Tripoli by Libya Dawn.
"The redline, what we cannot give up, is the legitimacy of the elected House of Representatives," Thinni said.
He warned that a military confrontation was still on option for his government. The air force of autonomous general Khalifa Haftar allied to Thinni has bombed targets in western Libya.
"We hope the dialogue is the way out… but if the dialogue fails, God forbid, then there is another opinion, the use of military force," he said.
DEFICIT
The turmoil has driven the oil exports on which Libya depends to feed its population to less than 200,000 barrels a day, a fifth of levels seen in 2013 and an even smaller fraction of that seen under Gaddafi. The state ran a deficit of $19 billion last year.
Thinni, whose control of state revenue and spending is in doubt, said Libya would post a budget deficit again in 2015 due to sharply shrinking oil production, but said Libya could get foreign loans or ask countries like the United Arab Emirates, his main backer, for help.
Neither of the two rival parliaments has approved a budget for 2015 but Thinni said his government would present a draft by mid-March. The central bank, located in the west in territory outside Thinni's control, has sought to stay out of the conflict by limiting spending to public salaries and essential imports.
Thinni said his government had moved the headquarters of state oil firm NOC to the east and planned to set up a new central bank unit there.
Such moves could be sensitive for foreign oil buyers confused over how to pay for Libya's oil. They have been paying for oil sales through the NOC and central bank accounts which are out of Thinni's control.
"We've moved National Oil Corp completely to Brega," Thinni said, referring to an eastern oil town. "This is the sole legitimate body."