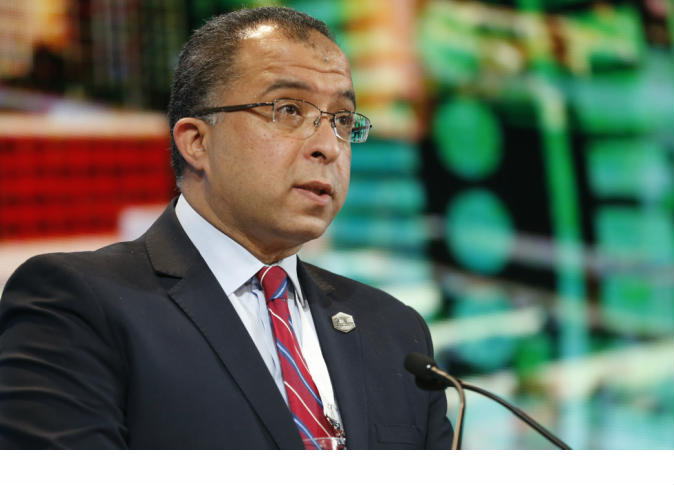 Egypt has turned more than half of initial agreements signed at a March investor conference into investment projects, the planning minister said, as Cairo tries to regenerate an economy battered by years of turmoil.
The government said it had signed deals worth $36 billion at an international investment conference in Sharm El Sheikh, and that the total worth of deals and memorandums of understanding (MoU) signed was $60 billion, in addition to $12.5 billion pledged by Gulf Arab allies.
"Over 50 percent of the MoUs we signed in the Sharm El Sheikh summit have turned into deals and work has started on them," Planning Minister Ashraf al-Arabi said in a Reuters interview on Saturday.
Egypt has signed exploration deals worth around $21 billion with global oil companies such as BP, BG and Italy's Eni since the conference.
It also signed a deal with Germany's Siemens worth $9 billion to supply gas and wind power plants to boost Egypt's electricity generation by 50 percent.
The conference was an important test of Egypt's reform agenda under President Abdel Fattah al-Sisi, a former army chief who wants to remove investment barriers to help turn around the ailing economy of the Arab world's most populous country.
Sisi's crackdown on Islamists and secular opponents has drawn fire from human rights groups. But he has won praise from foreign investors by cutting fuel subsidies that imposed a heavy burden on the state and by implementing other reforms.
He is also focused on state-driven mega projects, such as Egypt's New Suez Canal, a project he sees as a symbol of national pride and a major chance to stimulate an economy suffering double-digit unemployment.
Egypt sees unemployment falling to below 12 percent in the financial year 2015-16, and less than 10 percent by 2019, Arabi said on Saturday. It stood at 13.3 percent in the financial year 2014-15 before falling to 12.8 percent in March.
CANAL PROJECT
The new canal is set to be inaugurated at a lavish ceremony on Aug. 6. The first cargo ships passed through in a test-run last week.
The army led work 12 months ago on the $8-billion canal, flanking the existing, 145-year-old waterway and part of a larger undertaking to expand trade along the fastest shipping route between Europe and Asia.
The existing Suez Canal is a vital source of hard currency for Egypt, particularly since the 2011 uprising that scared off tourists and foreign investment. It is projected to bring in $5.4 billion in the financial year 2014-15 and $5.5 billion in 2015-16, Arabi said.
The New Suez Canal, which will allow two-way traffic of larger ships, is supposed to increase revenues by 2023 to $15 billion.
The planning minister also said he did not expect more grants from Gulf Arab allies in the current financial year, adding that he instead expected fuel aid.
"We are already in talks with Saudi Arabia, Kuwait and the United Arab Emirates over this," Arabi said.
Egypt would again sell dollar-denominated bonds this year, he said.
"Our foreign debt is at a secure level which pushes us towards the international bond market. The issuance value will be determined based on the country's needs," Arabi said.
The Egyptian government sold 10-year dollar-denominated bonds worth $1.5 billion in June, the first such issue in five years, a sign of returning economic stability since 2011.
Arabi predicted less than 3 percent growth in the fourth quarter of the 2014-15 financial year which ended in June, and 4.2 percent growth for the entire year.
Growth fell from above 7 percent in 2007-08 to below 2 percent in 2010-11 and has not exceeded 2.2 percent annually since. The government projected 5 percent growth in this year's budget.