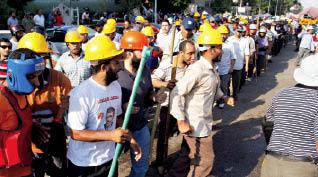 Giza security identified on Friday the corpses of three young men previously found dead early Wednesday in the district of Omraneya following clashes between citizens and supporters of deposed president Mohamed Morsy earlier this week.
Since the Armed Forces removed Morsy from office two weeks ago, Egypt has seen a series of violent episodes that have involved his supporters and opponents as well as security forces.
The dead men were identified as Ahmed Fathy, 30, a technical education graduate, Salem Sayyed, 28, a Tok Tok driver, and Samy Keshk, their friend.
Investigators found that the trio was working at Giza Square, and speculated that they had been assaulted by Morsy supporters who clashed with local residents this week at Giza Square, Rabea al-Gizy street, and Bahr al-Aazam street.
The investigators revealed that they had been stripped of their clothes except for their underwear, and that the bodies bore marks of burning and stabbing. They said that they had probably been tied from the legs and arms.
Some witnesses told interrogators that Morsy supporters were behind the killing and torture of the victims.
One of the witnesses, Mahrousa, 30, a street vendor, said she had seen nearly 50 bearded men beating Keshk with metal objects at Giza Square last Monday, alleging that he had stolen some possessions from protesters. Mohamed, 13, another worker in the area, backed her story.
A security source said an initial investigation had concluded that the trio probably had been killed at Nahd Square, which has been a stage for bloody clashes over the last two weeks. The source added that the victims were possibly tortured in the square before their murderers put them in sacs and threw them near the Saket Mekky subway station, where they were found.
The same source confirmed that the three victims were formerly convicted of robbery and drug-related crimes.
Edited translation from Al-Masry Al-Youm