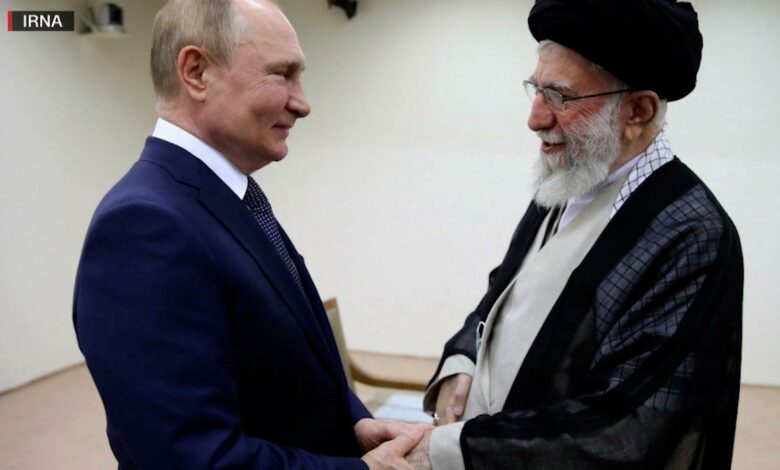 Abu Dhabi, UAE (CNN) – One image distributed by Iranian media on Tuesday of Russia and Iran's leaders meeting stood out. Russian President Vladimir Putin is shown clasping palms with Iran's Supreme Leader Ayatollah Ali Khamenei as the two rulers — both heads of oil-rich countries grappling with grueling Western sanctions — boast about their tight partnership.
Russia and Iran say they are now closer than ever as the West clamps down on both states. But some observers say the two countries' highly publicized friendship has both a tumultuous past and a difficult future ahead.
In his first trip outside the former Soviet Union since the Ukraine war, Putin on Tuesday landed in the Iranian capital Tehran, where he met with Iranian President Ebrahim Raisi, as well as the country's highest-ranking ruler, Khamenei.
Putin's visit was part of a trilateral meeting with Raisi and NATO leader Turkey's Recep Tayyip Erdogan, who has so far refused to join in on Russian sanctions and offered to play a mediating role between Moscow and Kyiv.
But some analysts are skeptical of the true strength of Russia and Iran's declared friendship, with some saying the meeting was mostly about the optics, signaling potential cooperation as opposed to the more modest support both countries currently give one another.
In the past, Russia had always "overpromised and underdelivered," said Ali Vaez, Iran Project Director at Crisis Group, a think tank in Washington, D.C., and has even "stabbed [Iran] in the back repeatedly and sold it to the highest bidder."
But options for Iran and Russia are limited, he added, and so they cannot afford to alienate one another.
The timing of the meeting is also pertinent, coming just days after US President Joe Biden ended a Middle East tour that many hoped would yield more oil and forge a stronger regional alliance against Iran, yet ended in Biden going home largely empty-handed.
The Islamic Republic has accused the US of rallying the region against it, planting instability and spreading "Iranophobia."
The meeting is, from Tehran's point of view, "a signal of strength in response to the American attempt to show itself as in charge of the region," Mohammad Marandi, a professor at the University of Tehran, told CNN's Becky Anderson on Tuesday, who added that Biden's trip to Saudi Arabia "was perhaps seen as a sign of weakness" and is "representative of a relative decline of the United States."
Russia is in a similarly isolated position after becoming the world's most heavily sanctioned country in the wake of its invasion of Ukraine. Iran comes in second, according to Castellum.Ai, which tracks sanctions.
The two oil-rich states were keen to show their tight alliance in Tuesday's meeting, with Iran showing strong support for Russia's war effort in Ukraine.
In a bilateral meeting with Raisi, Putin said he was "very pleased to be on the hospitable Iranian soil" and that the two countries "can boast about record figures in terms of trade growth."
The talks also brought forth a $40 billion agreement between Iran's national oil company and Russia's state-run gas company Gazprom, according to a statement from Shana, the news agency for Iran's oil ministry. The memorandum of understanding is meant to develop Iranian gas fields and build new pipelines for export.
However, Iran's heavily restricted economy and Russia's past ventures in the Persian Gulf state are driving skepticism about whether the deal will indeed materialize.
The Gazprom deal is an example of the complexities facing close Russian-Iranian cooperation, says Esfandyar Batmanghelidj, founder and CEO of the Bourse & Bazaar Foundation think tank in London.
"It is part of a pageantry of state visits," he said. "It does not obligate Russia to invest and Russia is not going to invest in Iran's energy sector while Iran's energy sector is under stricter sanctions than Russia's energy sector."
Investment in Iran's energy sector would "trigger enforcement action from the US that would jeopardize Russia's continued energy exports to Europe and to other countries," Batmanghelidj added.
Unlike Russia, Iran is under secondary US sanctions that place firms or individuals that deal with Iran at risk of being penalized.
Gazprom had previously signed a gas deal with Iran's National Oil Company in 2016, when Iran was not yet under secondary sanctions, but which "didn't lead anywhere" due to several barriers constricting Iran's economy, said Batmanghelidj.
Russia has in the past hindered Iranian policy when it stood as an obstacle to key interests.
The two countries have also recently fallen into a tense energy competition as they scramble to find buyers for their sanctioned oil. As the West began barring Russian oil, Moscow has been biting into Tehran's last remaining lifeline for its energy exports –, China — , leading to an oil price war where Russia still maintains the upper hand.
And in March, Russia rose as a temporary hurdle in nuclear talks with Iran, asking for guarantees that protect its own national interests as Western sanctions fell down on Moscow.
"The track record is full of so many negative experiences, where Iran felt that Russia has undercut Iran," said Batmanghelidj, adding that in many situatins Russia acted as "ruthless and self-serving country" in its dealings with Iran.
"It takes a long time for two countries to build genuine trust," he said.
While there is relatively little Russia can expect Iran to do to help help it emerge from its heavily sanctioned economy, the US has warned that Tehran is planning to help Russia on the battlefield in Ukraine.
Earlier this July, the White House said that Iran is expected to supply Russia with "hundreds" of drones — including weapons-capable drones — for use in the war in Ukraine and that Iran is preparing to begin training Russian forces on how to operate them as soon as this month.
Iran has denied selling drones to Russia, but on Tuesday, Iranian media reported that Iran is ready to export military equipment and weapons to friendly nations, quoting an Iranian army general.
Iran's experience in evading sanctions may also be of use to Russia, said Vaez, showing Moscow the tricks — and limitations — of living with a restricted economy.
"I think it is completely natural that both sides are thinking about creating a club of sanctioned states," he added, "But I think there are also limits to how far they can go."