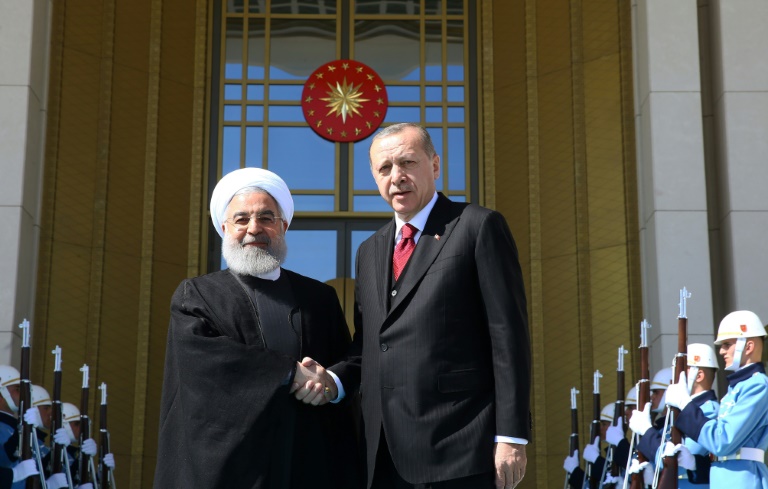 Iran gave its most explicit rejection yet of talks with the United States on Saturday, and accused Washington of an "addiction to sanctions" over its latest spat with Turkey.
The US reimposed harsh sanctions on Iran on Tuesday following its May withdrawal from a landmark 2015 nuclear agreement, dealing a heavy blow to the already troubled economy.
US President Donald Trump has offered talks on a "more comprehensive deal" but Iran has balked at negotiating under the pressure of sanctions and has instead leant on its increasingly close ties with fellow US sanctions targets Turkey and Russia.
Foreign Minister Mohammad Javad Zarif was asked by the conservative Tasnim news agency whether there was any plan to meet with US Secretary of State Mike Pompeo.
"No, there will be no meeting," was the blunt response from Zarif.
He said there were also no plans for a meeting with US officials on the sidelines of the UN General Assembly in New York next month, which both Iranian President Hassan Rouhani and Trump are due to attend.
"On Trump's recent proposal (of talks), our official stance was announced by the president and by us. Americans are not honest and their addiction to sanctions does not allow any negotiation to take place," Zarif told Tasnim.
It was Iran's most explicit rejection of talks to date, after much speculation that economic pressure would force its leaders back to the table with Washington or at least to engage in backroom discussions in New York.
Stop 'bullying' Turkey
Earlier on Saturday, Zarif waded into the mounting row between Turkey and the United States.
"Trump's jubilation in inflicting economic hardship on its NATO ally Turkey is shameful," he wrote on Twitter.
"The US has to rehabilitate its addiction to sanctions (and) bullying or entire world will unite — beyond verbal condemnations — to force it to," he warned.
"We've stood with neighbors before, and will again now."
Trump said Friday he was doubling steel and aluminium tariffs on Turkey as part of an ongoing row over the detention of American pastor Andrew Brunson and other issues.
The tensions have fueled a run on the Turkish lira, which dropped 16 percent to a record low on Friday, with Trump tweeting that the currency was sliding "rapidly downward against our very strong Dollar!"
Rial pain
Iran too has suffered a major decline in its currency this year — in part due to US abandonment of the nuclear deal — with the rial losing more than half its value against the dollar since April.
Ironically, the rial strengthened in the two days leading up to the reimposition of US sanctions on Tuesday, after the government announced new foreign exchange measures giving greater freedom to trade dollars at market rates.
But there has since been a fresh decline of almost 13 percent, with the rial at 106,200 per dollar on Saturday, according to currency tracking website Bonbast — approaching the record low of 119,000 that it reached on July 31.
Analysts say this is due to uncertainty in the market, with currency traders still unsure of the new rules and struggling to access dollars from the central bank.
Zarif met repeatedly with then US secretary of state John Kerry during the negotiation and implementation of the 2015 agreement — but those relatively warm ties were abruptly ended when the Trump administration came to power.
Rouhani said last week that Iran "always welcomed negotiations" but that Washington would first have to demonstrate it can be trusted.
"If you're an enemy and you stab the other person with a knife and then you say you want negotiations, then the first thing you have to do is remove the knife," he said in an interview on state television.