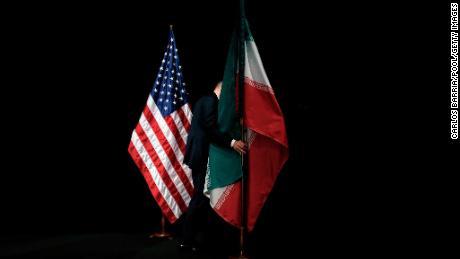 (CNN)Iran and the United States return to Vienna on Tuesday for another round of talks aimed at reviving the 2015 nuclear agreement abandoned by the Trump administration.
There have been enough indications of progress from both sides to suggest that negotiations have entered a critical phase, but a number of issues remain unresolved.
Those include the scope of sanctions relief for Iran, sequencing of events, verification mechanisms, Iran's compliance process, Tehran's demand for guarantees the US will stick to the deal, says Sanam Vakil, senior research fellow at London's Chatham House think tank.
The latest sign of progress came on Friday when the US 
restored sanctions waivers
. The waivers, rescinded under former President Donald Trump, had allowed Russian, Chinese and European companies to carry out non-proliferation work to make it harder for Iranian nuclear sites to be used for weapons development. The State Department hopes the waiver restoration will help the talks in Vienna.
Here are some issues to watch out for that may give an indication of how the talks will progress:
"Maximum pressure" sanctions
The term refers to sanctions 
imposed by the Trump administration
 that go beyond those imposed by the 2015 nuclear agreement, aimed at putting pressure on the Islamic Republic to renegotiate the pact after Trump abandoned it in 2018. Iran has said that it won't accept a new deal that doesn't remove Trump's sanctions.
Some of those sanctions, which were imposed over human rights and terrorism issues, may be harder to justify lifting, say Vakil and Michael Horowitz, head of intelligence at Le Beck International, a risk management consultancy in Bahrain. It may be in the US' interest to keep those sanctions as continued leverage on Tehran, according to Horowitz.
Face-to-face talks
Despite Washington's repeated calls for face-to-face talks, Iran has refused to sit at the table with American diplomats, opting instead to negotiate via intermediaries until the US offers a "good agreement." But late last month, it indicated for the first time that it would be open to direct negotiations. If the two sides find themselves at the same table in future talks, consider it a significant development, but Horowitz says it may be too early for such a move given the domestic backlash in Iran at the suggestion last month.
Fate of dual nationals held in Iran
Four
 Iranian-Americans are imprisoned
 in the Islamic Republic, an issue the US says is being used by Tehran to strengthen its hand in negotiations. America had previously said that talks on the prisoners were separate from the nuclear negotiations, but US Special Envoy for Iran Rob Malley recently indicated that a new nuclear deal was unlikely to be reached without Iran releasing those prisoners.
Guarantees of adherence to the pact
Iran has insisted that it won't return to a deal that can be abandoned once again, and has demanded guarantees that it won't pull out in the future. 
Diplomats have rubbished
 the demand as unrealistic.
"I don't see how the US would commit to not walking back on the deal," says Horowitz. "But there are, I think, some creative ways that the US and Europe, can [use to] reassure Iran." For instance, the Europeans could work to mitigate the impact of a future US withdrawal, he says.
"The US can curate a portfolio of transactional assurances that can help Iran sell the deal back home as being a sustainable and viable one," says Vakil.