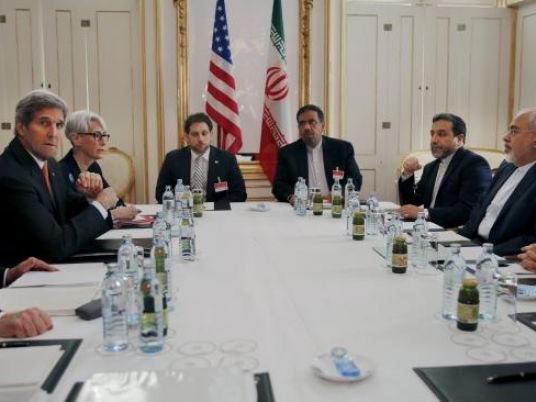 The six world powers seeking to negotiate a historic agreement with Iran to curb its nuclear program plan to carry on negotiating beyond a Tuesday deadline, a senior US official said on Sunday.
Iranian Foreign Minister Mohammad Javad Zarif was to leave Vienna and return to Tehran for consultations with the country's leadership on the state of negotiations, Iran said.
Officials from both sides said big differences still remained.
European Union foreign policy chief Frederica Mogherini said earlier on Sunday it was not impossible to get an accord by the self-imposed deadline but that a few extra days may be needed.
Foreign ministers from the negotiating countries were gathering in Vienna on Sunday to assess where the talks stood.
They expected them to spill over into July.
"Zarif will return to Tehran tonight and will come back to Vienna tomorrow," Iran's Tasnim news agency said, citing an unnamed Iranian official.
An Iranian official told Reuters that Zarif would "consult with the leadership" over the talks in Vienna.
The US official, who spoke to reporters on condition of anonymity, said Washington was not troubled by Zarif's decision to return to Tehran overnight, saying it was always expected that ministers would come and go from Vienna as the talks heated up.
The negotiations aim to limit Tehran's nuclear program in exchange for a lifting of US, European Union and United Nations sanctions on Tehran.
The United States, Israel and some Western nations fear that Iran has been trying to develop a nuclear weapons capability, but Tehran says its program is for peaceful purposes only.
The main differences are on the pace and timing of sanctions relief for Iran and on the nature of monitoring mechanisms to ensure Tehran does not cheat on any agreement.
US and European negotiators also want to ensure there is a mechanism for restoring sanctions if Tehran fails to meet its commitments under any future accord.
In November, the seven nations involved in the talks set a late March deadline for a framework agreement, which they ultimately reached on April 2, and a June 30 deadline for a comprehensive deal.
Highlighting how much work remains, British Foreign Minister Philip Hammond said on arrival in Vienna that major challenges remained, including on the parameters already agreed in April.
"There are a number of different areas where we still have major differences of interpretation in detailing what was agreed in Lausanne," Hammond told reporters.
"There is going to have to be some give or take if we are to get this done in the next few days," he said. "No deal is better than a bad deal."
In addition to Britain, Iran and the United States, the talks include China, France, Germany and Russia.
Speaking after a cabinet meeting in Jerusalem, Israeli Prime Minister Benjamin Netanyahu said too many concessions were being made to Tehran.
"We see before our very eyes a stark retreat from the red lines that the world powers set themselves only recently, and publicly," said Netanyahu, whose country is generally believed to have the Middle East's only nuclear arsenal.
"There is no reason to hasten into signing this bad deal, which is getting worse by the day."