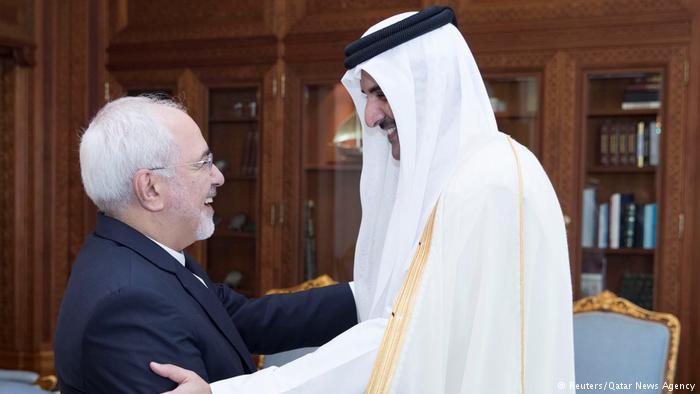 Tuesday's meeting between Iran's Foreign Minister Mohammad Javad Zarif and Qatar's ruling Emir Sheikh Tamim bin Hamad Al Thani was the Iranian diplomat's first trip to Doha since the start of a four-month-old blockade against Qatar.
The boycott, led by the Sunni Kingdom of Saudi Arabia and including fellow Gulf Cooperation Council (GCC) members Bahrain, Egypt and the United Arab Emirates (UAE), was launched in part because of Qatar's relationship with the Shiite regional power Iran. It has left regional and international leaders struggling to find a diplomatic resolution, and Qatar scrambling to secure food, water and transport access.
According to Qatari state media, Zarif and Al Thani's discussions on Tuesday centered on the blockade and what could be done to ease the region's tensions.
The Iranian and Qatari political leaders "reviewed relations of cooperation between the two countries in various fields as well as exchanging views on the current situation in the region," a statement from the Qatar News Agency read.
Zarif also used the meeting to underline diplomacy as the only way forward. "None of the regional crises have a military solution," the foreign minister said, according the Iranian news agency Tasnim as cited by AP.
Tasnim also reported that Zarif and Al Thani focused on the need to increase long-term economic cooperation. Iran and Qatar share the world's largest offshore gas fields, located in the Persian Gulf and spreading over the two nations' territorial waters.
Zarif's meeting in Doha came one day after he met with Oman's Sultan Qaboos bin Said in Muscaat. Oman has remained neutral in the ongoing blockade against Qatar.
More criticism of Tehran-Doha relations to follow?
Though cooperation and resolution was the focus of Zarif's visit to Qatar, the meeting could likely exacerbate the blockading nations' criticism of Qatar and Iran's close ties to one another. Sunni-dominated Saudi Arabia has accused Qatar of siding with its Shiite rival Iran, as well as supporting Islamist terrorism and hosting the Arab broadcaster Al-Jazeera in Doha. Saudi Arabia and its allies allege that Al Jazeera's Arabic language programming in particular is seditious and provocative, saying its content differs markedly from the English-language channel.
In a speech in Paris last week, Zarif argued that the blockade was only driving Doha into closer partnership with Tehran.
"They accuse Qatar of being close to Iran but with their measure… they push Qatar towards Iran. They are giving Qatar like a gift to Iran," Zarif said in the French capital.
In a show of solidarity with Saudi Arabia, Qatar suspended its diplomatic ties to Iran in early 2016 after a diplomatic spat escalated between the Shiite and Sunni regional rivals. Qatar announced it had restored its full diplomatic mission in Tehran in August 2017, after the blockade began.