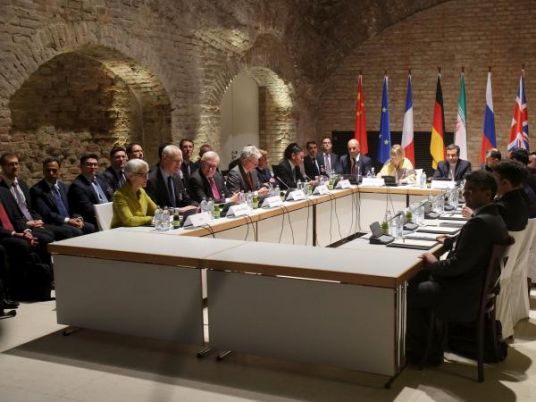 A self-imposed deadline of June 30 for
Iran
and six major powers to reach a final nuclear deal to resolve a decade-long standoff may be extended, Iran's state TV reported.
France
's ambassador to the United States, Gerard Araud, said on Tuesday that the deal was not likely by June 30 because technical details would remain to be agreed.
"The deadline might be extended and the talks might continue after the June 30 (deadline)," Iranian senior nuclear negotiator Abbas Araqchi was quoted as saying.
"We are not bound to a specific time. We want a good deal that covers our demands."
Ambassador Araud said it could take a few weeks of July to complete the technical annexes that are envisaged under an agreement if one can be reached.
Iran and the six powers resumed talks in Vienna on Wednesday to bridge gaps still remaining in their negotiating positions ahead of the deadline.
"The meetings on deputy negotiators level take place in the context of the E3/EU +3's diplomatic efforts towards a negotiated, comprehensive solution to the Iranian nuclear issue," the EU said in a statement.
Pace slows
A tentative agreement was reached between Iran, the United States, France, Britain, Germany, Russia and
China
on April 2, but several issues remain unresolved.
The pace of easing Western sanctions imposed over the Iranian program and the monitoring and verification measures to ensure Iran could not pursue a clandestine nuclear weapons program are among sticking points.
Iran denies any ambition to develop nuclear weapons and says its program is purely peaceful.
"The talks are serious, complicated and detailed. The pace of talks is slow as we have entered final stages," Araqchi said upon his arrival in Vienna, state TV reported.
Iran's supreme leader Ayatollah Ali Khamenei last week ruled out international inspection of Iran's military sites or access to nuclear scientists under any nuclear agreement. Iran's military leaders echoed his remarks.
"Our stance on nuclear talks is what we have said publicly … They (Iranian negotiators) should insist on the announced stances," Khamenei said in a speech on Wednesday, broadcast live on state TV.
When asked whether an accord could be reached by June 30, Foreign Minister Laurent Fabius told reporters that France's position was that it would be "very very difficult to envisage an agreement" if inspectors were not allowed access to military sites.
The UN International Atomic Energy Agency (IAEA) has been trying to investigate Western allegations that Iran has worked on designing a nuclear warhead. Iran says its nuclear program is peaceful and that it is working with the IAEA to clear up any suspicions.
The talks in Vienna will run until Friday, with technical experts meeting in parallel, state TV reported.