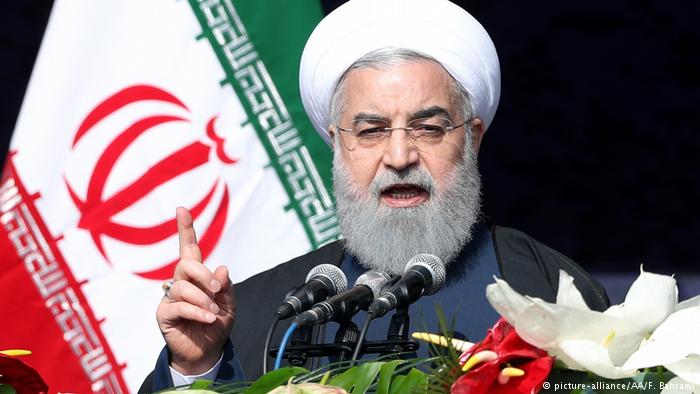 Iranian President Hassan Rouhani on Sunday called for all people in the country to come together, following protests last month that challenged the government.
In a speech marking the 39th anniversary of the Islamic Revolution, Rouhani said he wanted the 40th year of the revolution to "be the year of unity."
"I ask conservatives, reformists, moderates and all parties and all people to come and be together," he told a huge crowd in the capital, Tehran.
Admission of shortcomings
In an apparent response to protesters' complaints, Rouhani also admitted that the government had made mistakes since the revolution.
"In the last 39 years, we have progressed in many fields, but at the same time we have had shortcomings," he said, adding: "Maybe we haven't been speaking transparently with our people."
Rouhani also said that conservatives should not block reformist candidates from future elections and that the government should trust the people more.
Hundreds of reformists have in the past been stopped for standing for the presidency and parliament by the Guardian Council, which is dominated by conservatives.
Recent civil unrest
The speech in Azadi Square came after demonstrators in Tehran marched through the streets chanting slogans against the United States and Israel.
Anniversary celebrations are occurring against a backdrop of continued economic struggles, despite a 2015 landmark deal that saw heavy international sanctions lifted in return for Iran's curtailment of its nuclear program.
In late December and early January, there were several protests across the country that began over economic issues but changed into demonstrations that directly challenged the government.
Theocratic revolution
In February 1979, an uprising led by then exiled cleric Ayatollah Ruhollah Khomeini, led to the downfall of the monarchy under Shah Mohammad Reza Pahlavi, whose regime was accused of being autocratic, brutal and politically corrupt.
The revolution resulted in the establishment of an Islamic Republic based on a theocratic constitution, with Khomeini becoming Supreme Leader of the country in December of that year.
The change from 2,500 years of continuous monarchy brought with it a rejection of the pro-Western course already taken by the shah's father, Reza Shah.
Notably, some women's rights were severely limited, despite the prominent role played by women during the revolution.
Recent weeks have seen several protests by women opposed to a law obliging them to wear a headscarfin public.