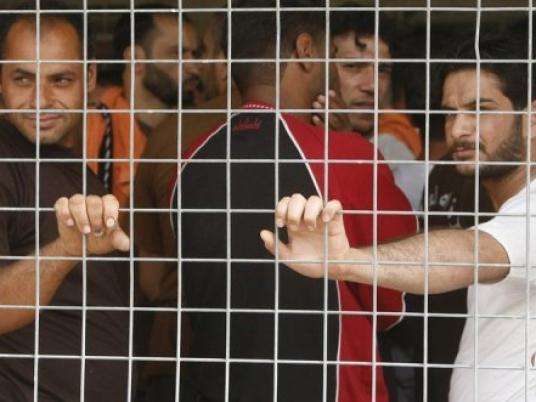 Amnesty International said on Tuesday Iraq is holding more than 1,000 detainees, some as young as 15, without charge in "inhumane and degrading conditions" at makeshift holding centers in western Anbar province.
The London-based human rights watchdog said 683 men have been crammed into disused warehouses in Amiriyat al-Falluja, just west of Baghdad, which counter-terrorism forces (CTF) have turned into a detention and interrogation facility.
"The detainees are squeezed into a space of less than one square meter each, sitting in a crouching position day and night, unable to stretch or lie down to sleep and are rarely allowed outside for fresh air," the organization's secretary general Salil Shetty said following an April 30 visit.
"It was a truly shocking sight — hundreds of human beings packed together like sardines in a tin and held in inhumane and degrading conditions for months on end."
Amnesty said in a statement the detainees had been picked up by Iraqi forces in the Sunni Muslim heartland of Anbar on suspicion of collaborating with the ultra-radical Sunni militants of Islamic State.
A spokesman for Iraq's Defence Ministry was not immediately available to comment on the report. Officials have previously said all suspects detained from areas retaken from Islamic State would enter the justice system and receive a fair trial.
CTF, backed by US-coalition air strikes as well as army and tribal fighters, have rolled back Islamic State in Anbar, taking the provincial capital Ramadi and the town of Hit in recent months.
Tens of thousands of civilians who were still living in the areas have been displaced to camps following the offensives. Men are usually separated from women and children for interrogation and investigated for possible militant links.
But CTF personnel told Amnesty they lacked the resources to carry out timely investigations and provide humane treatment. They said hundreds of other detainees were being held in similar conditions in another makeshift center further west in Habbaniya.
The release of thousands of minority Sunnis imprisoned on blanket terrorism charges and held for years without trial was a top demand of protests that broke out in Anbar more than three years ago. The government responded with force and Islamic State used the ensuing chaos to gain a foothold which helped it seize nearly the entire province.
Shetty called on the detainees in Amiriyat al-Falluja to be charged and tried or released. Security concerns, he said, "in no way exonerates the Iraqi authorities from their responsibility to protect the human rights of all Iraqis".