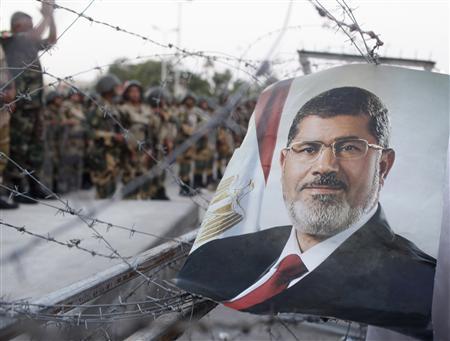 RIYADH – A new Islamist group has announced its formation in Egypt, calling the army's ousting of President Mohamed Morsy a declaration of war on its faith and threatening to use violence to impose Islamic law.
Ansar al-Shariah in Egypt said it would gather arms and start training its members, in a statement posted on an online forum for militants in the country's Sinai region on Friday and recorded by the SITE Monitoring organization.
The army's move, which was backed by mass rallies across Egypt, has raised fears Islamists could desert officially-recognized groups like Morsy's Muslim Brotherhood and move to more militant movements.
Morsy's exit has already triggered violence. At least 24 people died as Islamists took to the streets in Cairo and other cities on Friday to vent their fury at what they say was a military coup.
Morsy was elected president last year after a popular revolution swept away veteran leader Hosni Mubarak.
The army has appointed an interim leader and announced a transition plan which lacks a timeframe for more elections.
It has also arrested senior Muslim Brotherhood members and closed Islamist television stations.
Ansar al-Shariah said in its statement the military overthrow, the closing of television channels and the death of Islamist protesters all amounted to "a war declared against Islam in Egypt", SITE reported.
The group blamed the events on secularists, supporters of Mubarak and Egyptian Coptic Christians, state security forces and army commanders, who they said would turn the country into "a crusader, secular freak".
It denounced democracy and said it would instead champion Islamic law, or sharia, acquire weapons and train to allow Muslims to "deter the attackers, preserve the religion and empower the sharia of the Lord", SITE reported.