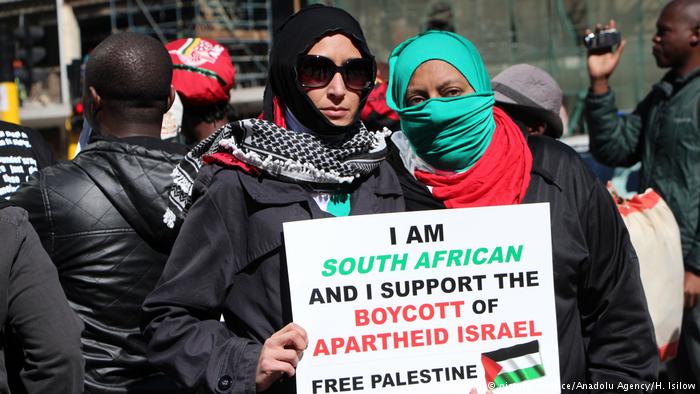 Israel announced the list of 20 foreign organizations whose representatives are to be banned from entering Israel because they advocate for a boycott of Israel based on its treatment of Palestinians in the occupied territories.
Publication of the list comes nine months after Israel passed a law banning foreigners who support boycotting the country. The nongovernmental organizations (NGOs) in the latest list come from Europe, the United States, Chile, and South Africa.
Free speech advocates slammed the law as a form of "thought control," and note that Israel already controls who enters the Palestinian territories, with the exception of one border crossing between Egypt and the Gaza Strip.
Public Security and Strategic Affairs Minister Gilad Erdan defended the Israeli crackdown in a Hebrew-language statement.
"We have moved from defense to attack," Erdan wrote. "The boycott organizations need to know that the state of Israel will act against them and will not allow them to enter its territory in order to harm its citizens."
The NGOs on the banned list include the Paris-based Association France Palestine Solidarite, British charity War on Want, and the American Friends Service Committee — a Nobel Peace Prize-winning US Quaker organization.
South African, French, Italian and Chilean branches of the Boycott, Divestment and Sanctions movement (BDS) are also on the blacklist.
Supporters of BDS say a boycott will incentivize Israel to come to the negotiating table with Palestinians. The movement has, predictably, caused anxiety among Israelis.
Israel slams BDS
The statement from Erdan said the NGOs being targeted were "the main boycott organizations which operate consistently and continuously against the state of Israel, while putting pressure on organizations, institutions and countries to boycott Israel."
The statement goes on to attack the organizations, accusing them of employing "a false propaganda campaign aimed at undermining Israel's legitimacy in the world."
Israeli President Reuven Rivlin defended Israel's move during a Sunday meeting with Norway's Foreign Minister Ine Eriksen Soreide, telling her that a boycott would not jump-start the moribund peace process.
"I believe that BDS leads to increasing hatred," his office quoted him as saying in English. "It symbolizes all that stands in the way of dialogue, debate, and progress," he added.
The Palestine Group of Norway was among the groups named on Sunday.
Amnesty International (AI) does not appear on Israel's persona-non-grata list, but that didn't stop Israeli officials from denying entry to one American employee of Amnesty in November — as part of Israel's counterpunch to the boycott movement.
AI and Israel agreed at the time that Raed Jarrar, an advocacy director for the Middle East and North Africa at the rights group, was prevented from entering the occupied West Bank.
Israeli authorities said they blocked Jarrar from entering the West Bank from Jordan over unspecified links to the BDS movement.