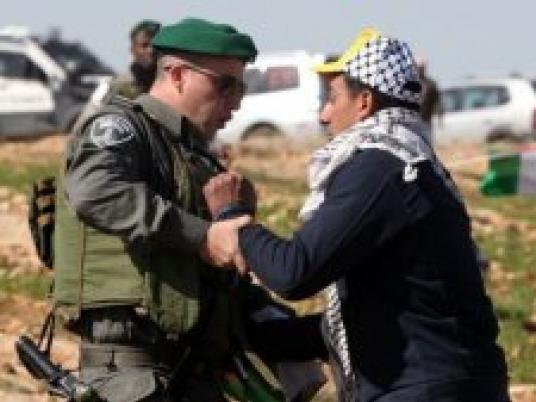 Israel's army on Saturday forced Palestinian activists to evacuate a West Bank encampment they tried to set up to protest against settlement building, witnesses said.
Soldiers dismantled tents that were being erected in two different areas near the town of Yatta in the southern West Bank, and forced activists to leave, the Palestinian witnesses said.
At the first site no arrests were made, but soldiers used water cannon to disperse activists at the second and arrested six people, including two photographers.
Two protesters were injured and taken to a hospital in nearby Hebron.
An Israeli army spokeswoman confirmed to AFP the evacuation of the first encampment before it had been set up, but gave no details on the second.
Palestinians and activists were on February 2 forcefully removed from a new camp near a West Bank village, after a third attempt at the novel form of protest against Jewish settlement.
In January, Palestinians put up a 24-tent protest camp on disputed land on the eastern outskirts of Jerusalem, dubbed Bab al-Shams, or Gate of the Sun in Arabic, in a bid to draw attention to Israeli plans to build in the area, known as E1.
Later that month, activists set up an encampment of four tents and a structure under construction to protest against Israel's intention to confiscate land near Beit Iksa northwest of Jerusalem, naming it Bab al-Karama, or "Gate of Dignity."
Both encampments were later removed by the Israeli military, which controls those parts of the West Bank.