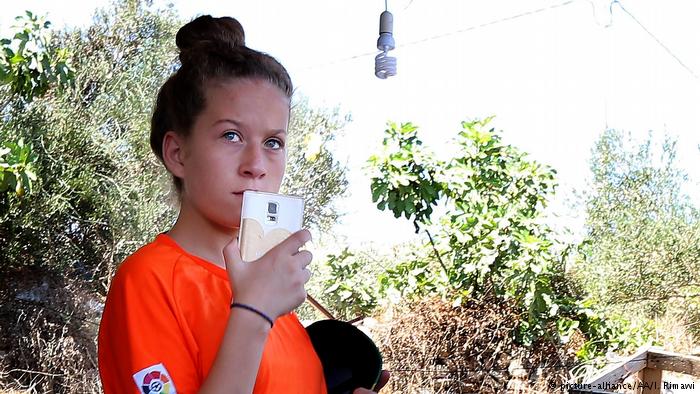 The Israeli army arrested a 17-year-old Palestinian girl on Tuesday after a video showing her slapping Israeli soldiers went viral on social media.
Shot on Friday, the video shows the suspect Ahed Tamimi (above) and another Palestinian teen approaching two Israeli soldiers – then shoving, kicking and slapping them while the soldiers remained relatively impassive before moving backwards.
A second video showed the girls asking the soldiers to move, since they were blocking the steps to a family home in the village of Nabi Saleh in the West Bank. The incident occurred the same day as clashes in the West Bank over US President Donald Trump's decision to move his country's embassy to Jerusalem.
Tamimi's mother was also arrested, and while Israeli police gave no reason for her detention, they did confirm that the pair would be in jail until at least Thursday.
"They didn't give a reason for her arrest," Tamimi's father Bassem told French news agency AFP. He also accused Israeli security forces of seizing mobile phones, computers and other electronics from their home.
Another family member named Mohammed was reportedly recovering in a hospital after being hit by a rubber bullet.
The video has been used by the Israeli army to prove to the world that their soldiers exercise restraint, but the women's arrest in the middle of the night has been criticized by Palestinian activists.
A history of protest
It's not Tamimi's first brush with anti-occupation notoriety.
When she was only a child, a photograph of her standing up to Israeli soldiers earned her an invitation to meet then-Turkish Prime Minister Recep Tayyip Erdogan. Then in 2015, a picture of the girl biting the hand of an Israeli soldier trying to arrest her brother became a symbolic photo shared widely around the world.
Just last year, Tamimi was denied a visa by the State Department in Washington after she was invited to be part of a speaking tour titled "No Child Behind Bars/Living Resistance."